With the release of v0.20 we have added a whole new way to play Spellslingers: EVENTS! This document serves as a how-to-guide to get you started.
Q: What are events?
Events are a new way to play the game. Here's how they work: once you reach Player Level 4, you can enter an event by paying the entry fee and selecting a deck. Each event has a maximum number of wins you can earn. The more you win, the greater the prizes! But watch out—lose too many games and your run will end. Don't worry though, as you can re-enter an event as many times as you want!
Many events have special rules or restrictions to spice things up, and all of them offer fabulous prizes. Some standard events will be run over the course of the week, but a new special event will premiere each weekend. Are you up for the challenge?
Q: How do I play events?
You need to be Player Level 4 to unlock events, once you are level 4 or higher they can be accessed from mode select screen.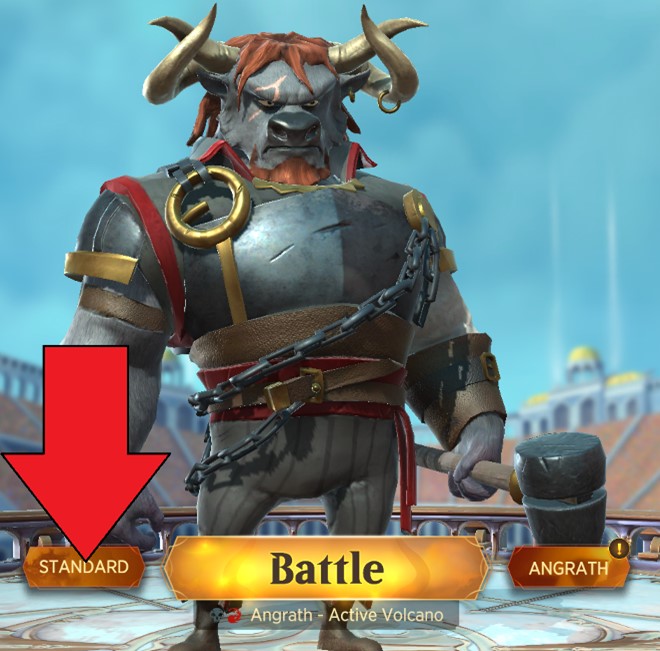 Just select an event and get rolling.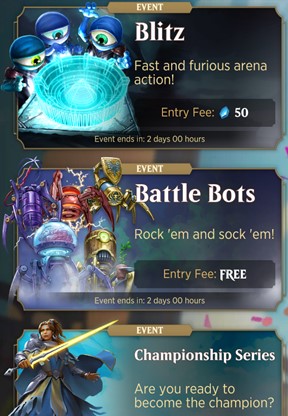 After tapping on an event you can read a quick description of the event and its particular rules.
Paying the entry fee will get you into the event and let you choose your Spellslinger.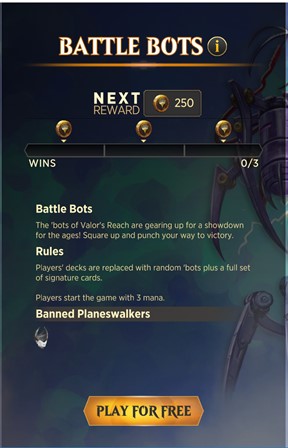 One you enter an event you need to select a deck and Spellslinger. During that run of the event you will be locked into that deck and Spellslinger for the duration of the event, so choose wisely!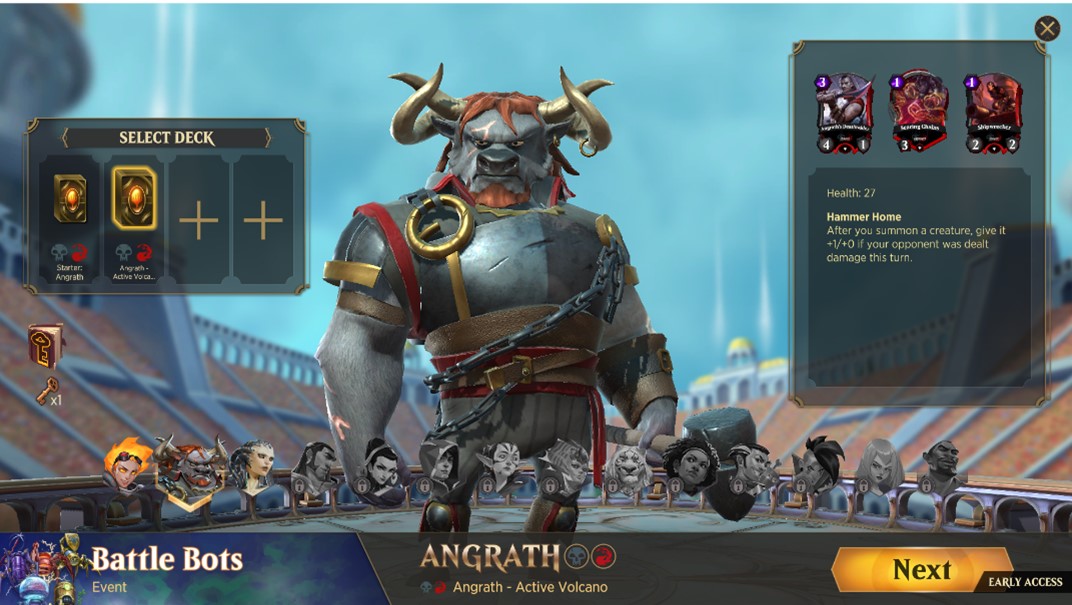 Each win in an event will earn you an escalating prize. You remain in your run until you reach either the maximum wins or maximum losses for that event.
You can continue or abandon an event run at any time as long as it's running. You can return to Standard league play at any time. Doing so won't end your current event run.
Runs will end automatically when the event times out.
Once your run is over, if the event is still running you can enter again!
Q: Entry Fees? Prizes? Max Losses?
In this initial release there are three main event types, with different prize structures, and entry fees.
| | | | | | | | | | |
| --- | --- | --- | --- | --- | --- | --- | --- | --- | --- |
| Event Type | Entry Fee | Free Plays | Losses | Win 1 Reward | Win 2 Reward | Win 3 Reward | Win 4 Reward | Win 5 Reward | Win 6 Reward |
| Exhibition Events | 500 Gold | 1 | 2 | 250 Gold | 500 Gold | 1,000 Gold | | | |
| Tourney Events | 100 Gems | None | 3 | 90 Mox Shards | 25 Gems | 180 Mox Shards | 75 Gems | 360 Mox Shards | 60 Gilded Lotuses |
| Blitz | 50 Gems | None | 1 | 25 Gems | 50 Gems | 100 Gems | | | |
Q: Do I get credit for Challenges? What about League Chests?
You will earn challenge progress as normal in events. However you will NOT make progress towards your league chest. League chest progress is only awarded in Standard mode.
Q: What is the schedule for events? What events are coming?
Battle Bots - The bots of Valor's Reach are gearing up for a showdown for the ages! Square up and punch your way to victory.
Blitz - Line 'em up, and knock 'em down in this quick mastery event!
Double Trouble - It's raining mana gems and extra cards! Bring your decks to take advantage of this flash flood.
Spell Slingers - One of Ral's experiments has gone awry and imbued your creatures with magical energy. Tame these beasts to harness their power!
Monolithic - Monochromatic Spellslingers are monopolizing the arena. Take up arms to prove which color is truly monolithic!
Floor is Lava - The Mountain Stage has E-R-U-P-T-E-D! Fight your way to the exit, or you might not make it out.
AND MORE!
| | | | | | | |
| --- | --- | --- | --- | --- | --- | --- |
| Sunday | Monday | Tuesday | Wednesday | Thursday | Friday | Saturday |
| Exhibition or Tourney Events | Exhibition or Tourney Events | | Blitz | | Exhibition or Tourney Events | Exhibition or Tourney Events |