A New Moon Rises: Previewing Werewolves & Moonlight
by Glenn Jones, Principal Game Designer, Wizards of the Coast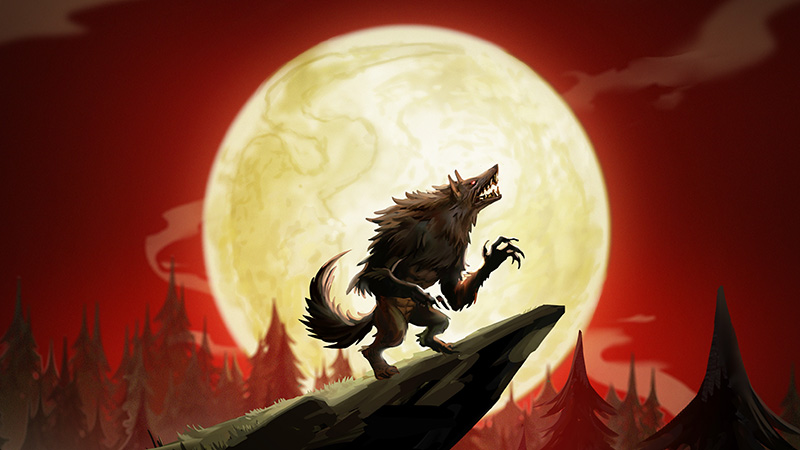 Hunter's Moon by Yangtian Li
Hello! Glenn Jones here, the lead set designer for the newest Magic Spellslingers expansion, Helvault Unsealed. Among the many joys of my role was looking back at the storied history of Innistrad for new and old themes and mechanics to reference. Today I'm excited to introduce something that's both: the Moonlight ability and the werewolves that feature it.
Designing Moonlight
When we decided to bring Innistrad to life for Spellslingers, werewolves were a given. But how? In Magic: The Gathering, werewolves are a set of transforming cards that can flip back and forth based on player actions. We decided early on that the most important part of the transformation process was going from human to werewolf. But our game plays faster than Magic—if "wolfing out" takes any effort to do, doing it multiple times in a game would be infrequent. Therefore, we locked in on a one-way "transform" mechanic that takes our werewolves from human to wolf (but not back again). Another bit I always liked about werewolves from Magic was that they tended to eventually all become wolves at the same time, which was creatively and mechanically satisfying, so we wanted to make sure that was true for Spellslingers as well.
We tried out several variations on how to make the werewolves transform. Early Moonlight designs put a spell card into your hand that changed costs and made it more unpredictable how and when it happened. However, we ran into some issues. Moonlight being a card meant that it could be discarded, and it was hard for the opponent to keep track of the threat level of werewolves transforming. In the end we nixed the card idea and opted for the cleanest execution that was tied to something visible to both players: the mana gem track. Tying the mechanic into mana also links Moonlight with the original Magic gameplay that inspired it, since it represents "doing less" on your turn. Introducing the Moonlight keyword:
Moonlight – If you end your turn with 2 available mana, flip this creature.
Note that I said "flip" and not "transform." When a creature transforms in Spellslingers, it becomes a new card; it heals and loses all status effects and conditions that apply to it. This was an issue during testing, because if you play an Oakenhide on the human side of your werewolf, then transform it, it loses the buff. No fun! And it also meant that any human with a decent health total could block and then flip and heal, slowing games down. We tried to balance both sides of werewolves within these parameters, but it just wasn't the best version of the mechanic. Thankfully, we have amazing partners at Pipeworks Studios, and they were able to implement new functionality: flipping. When you flip a card, it keeps all of its buffs and debuffs and doesn't heal. It is effectively the same card, just with different stats and abilities.
On the Prowl
Let's take a look at some werewolves to see Moonlight in action.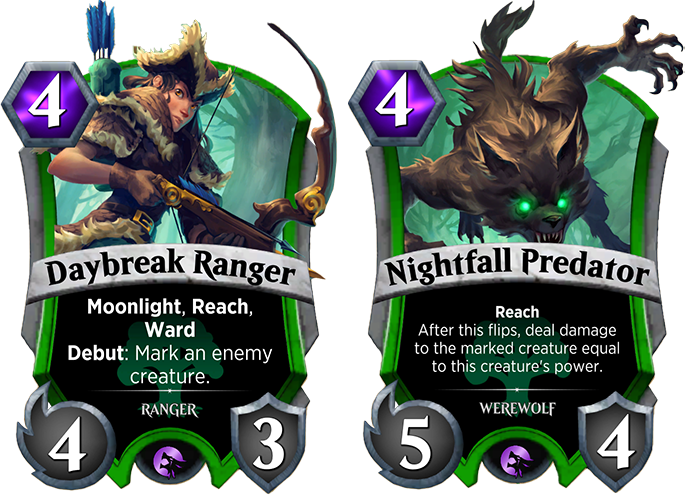 Daybreak Ranger is one of the most well-known early werewolves, and I was excited to revisit its creative and try to make a card with some real competitive impact for our game. While its mark may look like Fatal Infection's doom, it's not the same at all. There's no question about when a doomed creature is going to die. By introducing some uncertainty to that dynamic, there's a lot more tension—if the marked creature "chump attacks" and dies, Daybreak Ranger doesn't need to flip at all. Holding the marked creature back forces Daybreak Ranger to take some time off to flip into Nightfall Predator or requires Hunter's Moon to speed things along.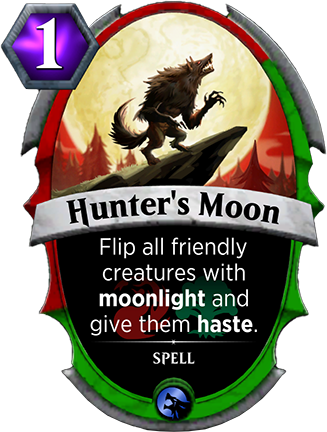 Werewolves needed to function on their own in decks, but we also hoped players would be excited to build a dedicated werewolf deck. Just the existence of Hunter's Moon can put your opponents in a bind. Can they take a turn off from fortifying their defenses to draw some cards or play their artifacts? Or will your innocent villagers suddenly transform into ravenous beasts? It plays especially nicely with Gatstaf Agitators, as transforming into Gatstaf Plunderers will get you a quick refund on the mana spent.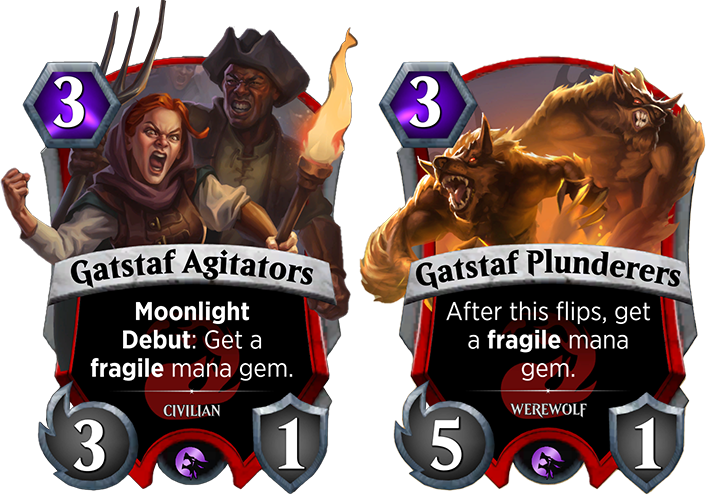 On the art side, creative lead Annie Sardelis and I both took a lot of inspiration from cards like Gatstaf Shepherd from Magic, which used the dual art concepts to tell a story. We structured the two forms of some creatures in our set similarly, to play up their oppositional nature. Of course, Innistrad's gothic horror in Spellslingers is a little more cutesy and fun than grim, so in this case the shepherd still protects the flock.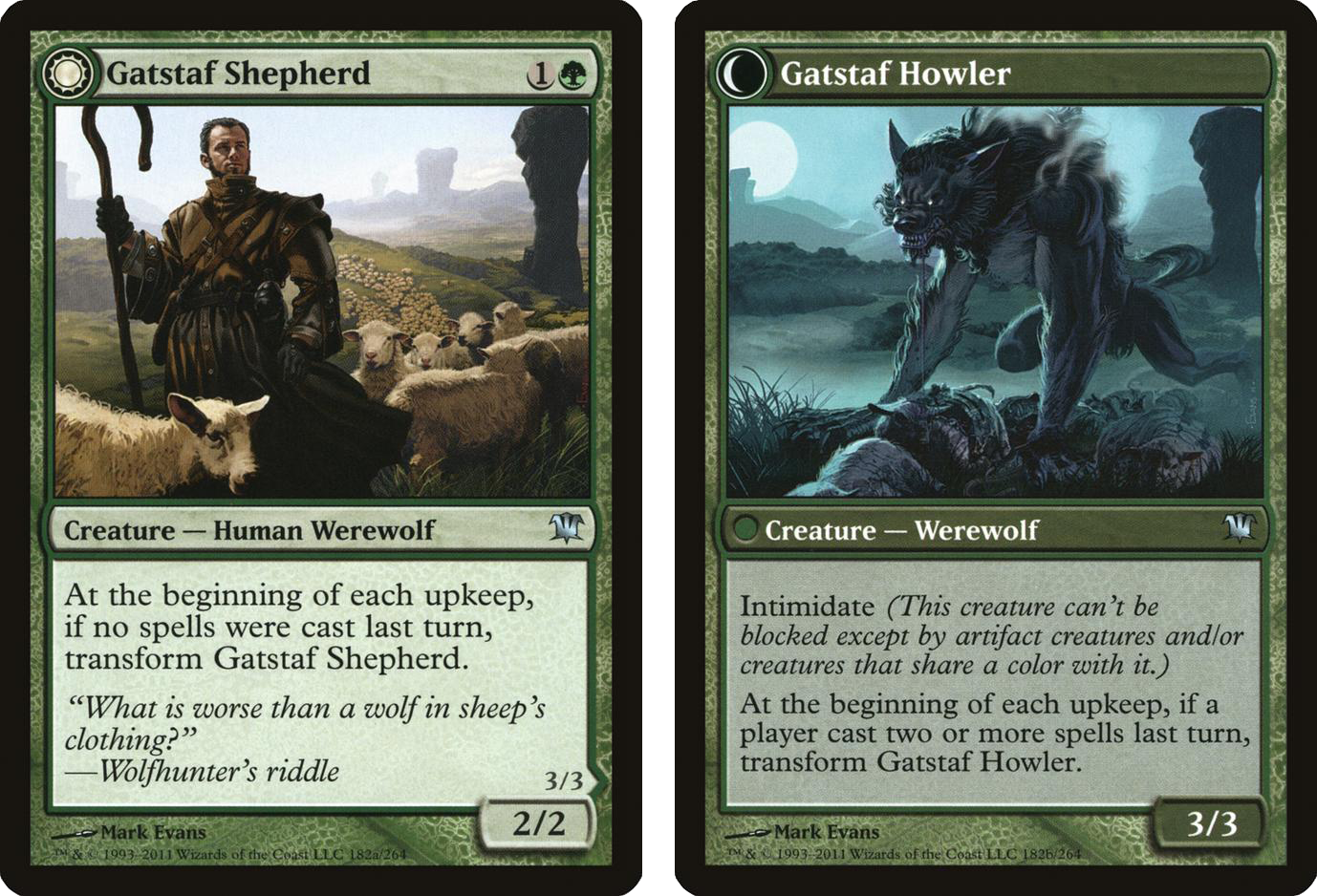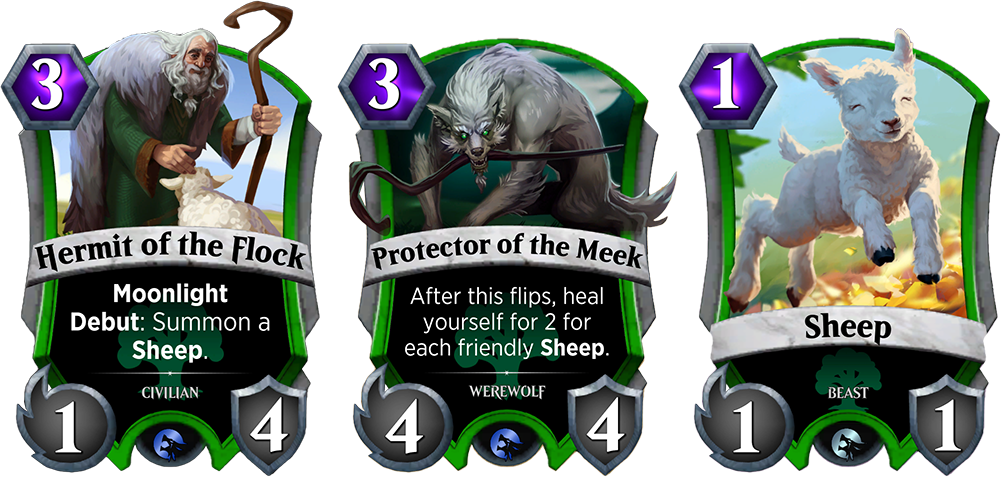 I hope you've enjoyed this look behind the scenes at Helvault Unsealed! I considered it a true privilege to bring this setting to life for an audience of fans new and old, and I hope you find we've done it justice. See you in the arena, Spellslingers!