How one-time effects can prevent punishing play patterns
by Lukas Litzsinger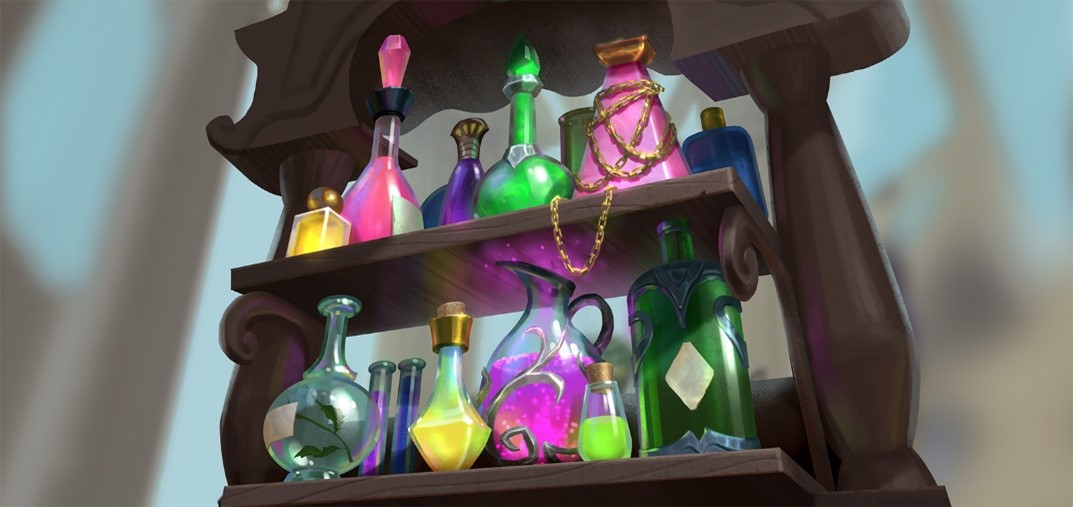 Improve by Room8 Studios
Hello Spellslingers! My name is Lukas Litzsinger, and I am the lead designer for both the Core and Opening Ceremony card sets. Today I don't want to talk about the cards, though, but rather the game system. Let's take a look at how we developed Magic Spellslingers to be a robust and satisfying CCG experience, while also preventing punishing play patterns through the use of consumable keywords.
What are consumable keywords?
Keywords are abilities that we shorthand on cards instead of writing out the full rules text. They make it easier to fit other, more unique abilities on cards. For example, "flying" appears on many cards. We could write out the rules for it ("can only be blocked by creatures with flying or reach") but that becomes tedious to read over and over again and doesn't leave much space for other abilities. It is much easier to just write "flying" on the card because it is self-explanatory after you learn what it means.
Consumable keywords, then, are a special kind of keyword that only happen one time. This means they are difficult for players to abuse or use to accrue massive amounts of value. There are four consumable keywords in the game:
Relentless
The first time a creature with relentless dies it is resummoned and can no longer block attacking creatures.

Armor
The first time a creature with armor would be dealt damage it instead loses the armor.

Ward
When a creature gains ward it can't be targeted by your opponent until your next turn.

Sneak
A creature with sneak can't be blocked the first time it attacks.
Why use consumable keywords?
When developing the game, we spent a lot of time tinkering with the keyword mix. We wanted to make sure that we didn't overwhelm players with too many of them, as many games launch with dozens of keywords. This can be frustrating when learning the game, and we wanted to make sure Spellslingers was easy to learn but hard to master. This meant that each and every keyword we chose needed to carry its weight. It needed to be used frequently enough to be worth shorthanding, and flexible enough to appear on many different types of creatures (cheap and expensive creatures, creatures of different colors, small and large creatures, etc.).
We found that by making some of our keywords consumable, we could better fulfill both of these goals. Consumable keywords can be used more frequently than other keywords because they prevent punishing play patterns. For example, if ward did not wear off after one turn, then you would never be able to target the creature. This would be similar to the hexproof keyword in Magic: The Gathering. Hexproof is incredibly powerful because it prevents players from interacting with that creature. It is so powerful, in fact, that Magic doesn't use it very often. By using ward in Spellslingers, we can use it much more frequently, which adds texture to the game.
Consumable keywords are also more flexible. For example, you may be staring down a big, armored Knight of the Tusk. If armor was not consumable, this would be a huge problem and you would probably try to avoid combat with it as much as possible. In fact, it would be so unfun to play against that we wouldn't be able to even put armor on a big creature like Knight of the Tusk! We would only ever be able to put it on small creatures. However, because armor is consumed when used, you can strategize how best to tackle this problem. You could try to break the armor with a weak creature and then finish off the Knight with a larger creature, or use an even bigger creature to soak up the armor hit and then finish it off with a damage spell!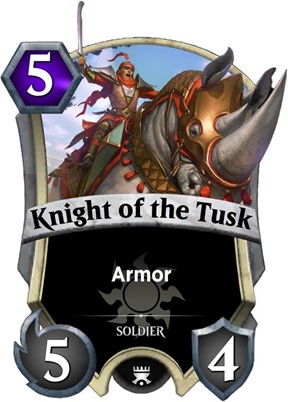 As you can see, there are some great advantages to using consumable keywords. I hope you enjoyed today's article and until next time—
See you in the arena, Spellslingers!