Welcome to a new patch Spellslingers! This contains the largest number of balance changes EVER, introduces a new Planeswalker, and adjusts the rarities of some cards to provide a better new player experience. We are excited to share this update with you so let's dive right in with the newest kid on the block...
New Planeswalker: Ashiok!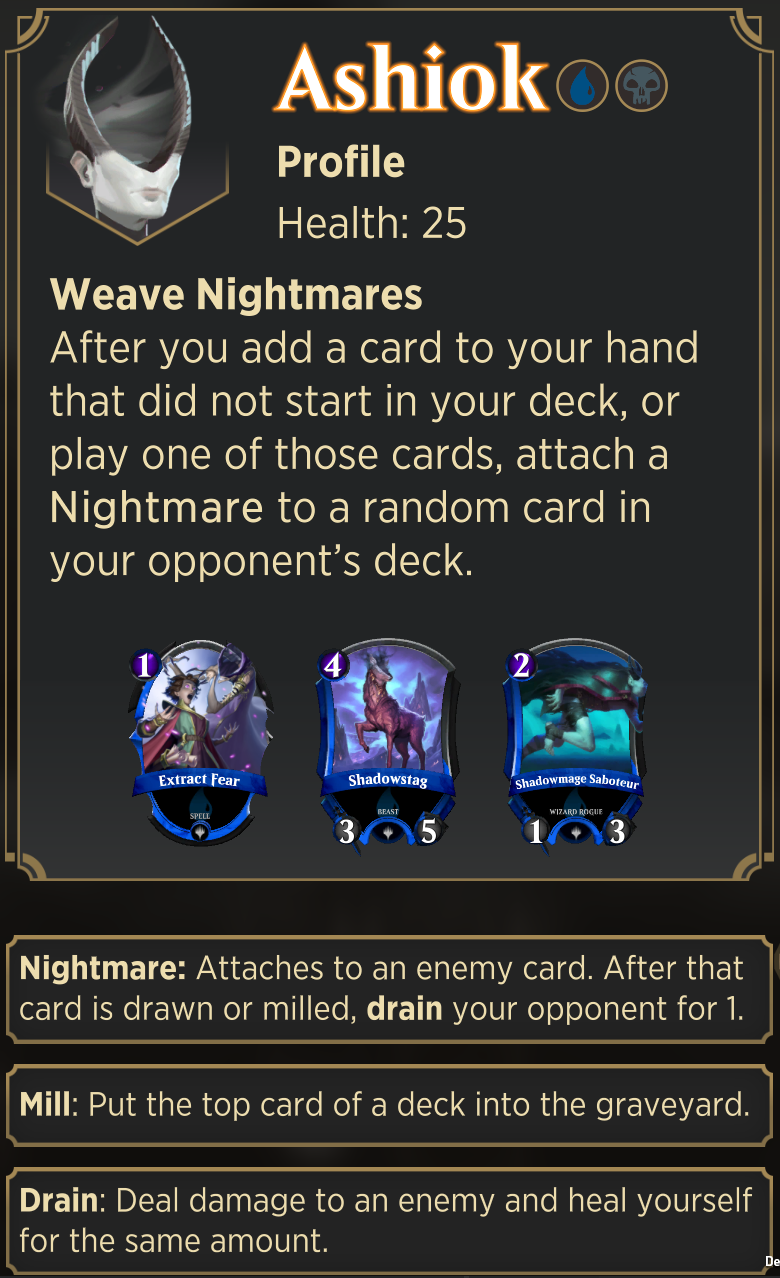 Signature cards:

Weave Nightmares and Shadowstag work great with cards like Isochron Scepter, Agony Warp, and the new Scour the Void.

Planeswalker Changes
Nissa
Nissa's deckbuilding rule was making it too easy for her to counter any type of opposing strategy since Nissa could always just play all the best new cards. We've decreased the total number of cards she can splash, so she'll have to be more selective, but we've also given her the ability to play any land, which opens up tons of exciting new deckbuilding options! Also, Joraga Druid proved to be weaker than other signature cards, so we've lowered the mana cost.
Note: You'll probably need to go edit your old Nissa decks to be legal for play with her new rules. While you're at it, why not try out a new land?
Worldwaker

10 cards of any colors > 6 cards of any colors and any land

Joraga Druid
Vraska
Vraska's best opening plays were a little too explosive, so we nerfed her Grub. Don't worry though because we also gave her some overall power back by buffing the Statue token, thus making Turn to Stone stronger.
Vraska's Grub

Finale: Gain a mana coupon > Finale: Reduce the cost of a random creature in your hand by 1

​Statue

0/2 > 2/2 and can't attack
Jace
Jace needed some help surviving the early game, and was already plenty powerful in the late game, so we've adjusted Threads of Persuasion to help boost his win rate by making it a card that can help him stabilize against aggro decks. Jace is also one of the main beneficiaries of the nerfs to various aggressive Red and Black cards this patch.
Threads of Persuasion

5 mana > 3 mana
Shuffle an enemy creature into your deck and draw a card > Put an enemy creature on top of their deck
Nahiri
Nahiri has the highest win rate of any Planeswalker, and for that she wins the prize of getting some nerfs! Willful Smith takes the fall for Nahiri's crimes, and a couple of the other aggressive Red card nerfs will also help bring her down to the level of her fellow competitors.
Starting Health Total
Willful Smith

4/5 > 4/4
Debut no longer makes "Forge from Stone" cost 0 for the turn.
Liliana
​Liliana's win rate was lower than we'd like, so we're giving her Goliath an extra power (which is kind of like 3 extra power), reducing the cost of Diehard Fan, and adjusting her starting health and Grave Ambition to give her more survivability. So, while her starting health is being reduced, over the course of an average match she will have more health now than before.
Starting Health Total
Grave Ambition

Now heals Liliana for 1 when she returns a creature from a graveyard, in addition to giving that creature +1/+1

Liliana's Goliath
Diehard Fan

3 mana > 2 mana
3/2 > 2/3
Chandra
​Chandra's Flame Shot was too efficient at clearing out multiple blockers and could snowball her games without giving the opponent a chance to recover, so we've swapped the mana costs of it and her Flamecrafter. This, along with some other Red card nerfs, should make it easier to defend against her.
Flame Shot

3 mana > 4 mana
3 damage to main target > 4 damage to main target

Chandra's Firecrafter

4 mana > 3 mana
4/4 > 3/3
Card Design Changes
​We made several design changes to cards. Some cards will be more powerful, some less, and others will just be different. All these changes, as always, are meant to make the game more fun and balanced!
Trostani - we wanted all her modes to be equally enticing so we switched them up a bit

Nature's Might: Give all friendly creatures +1/+1 > Summon two 1/1 soldiers
Nature's Vigor: Heals for 4 instead of 5
Nature's Bounty: Gives an empty mana bond instead of a full one

Skymaster Sphinx - is it Freaky Friday? Because this now does the opposite of what it did before! Beware Arcanis' army of sphinxes because they're now coming for YOUR deck

Attack: Draw a card > Attack: Mill your opponent for 1

Incapacitate - Black removal was too efficient at dealing with small creatures

2 mana > 3 mana
Give an enemy creature -2/-2 > Halve an enemy creature's power and health, rounded down

Old Graveyard - it's now better for control decks so try it out!

Ability starts on turn 6 instead of turn 7, but now the zombies you get can block!

Jolt of Inspiration - Ral really pushed us for this one

Trap > Spell
3 mana > 4 mana
Add three random spells to your hand

Mana Short - no mana = no traps. that's just math

Now disarms your opponent's traps when you cast it, in addition to stealing their unused mana

Immolating Glare - now allows for more counterplay

Now destroys the most powerful attacking creature after your opponent attacks, instead of after you're done blocking

Poxbug Plague - less effective at sweeping the entire board but gains more utility against larger creatures

Deal 3 damage to all creatures and players > Give all creatures -2/-2

Arrester Lavinia - she's good now

4/4 > 3/4
Ward > Armor, Sneak

Step Over - now you don't feel as punished for blocking; you're still punished, just not as much

No longer gives +2/+0 but the trample granted is now permanent

Alhammarret - now more resilient to removal
Stadium Shaker - there was a bit too much direct damage coming out of Red

5 mana > 6 mana
6/3 > 6/4
Debut: Deal 2 damage to an enemy > 3 damage to an enemy creature

Second Sun's Dawn - for those games when you need the heal ASAP (aka one turn earlier)

7 mana > 6 mana
No longer draws a card when cast

Sacred Sanctum - we wanted you to be more excited about this land during the game, not only at the start!

Heal yourself for 2 at the start of the game instead of 5
Heal yourself for 2 every time it triggers instead of 1

Lightning Helix - did we mention there was a bit too much direct damage coming out of Red?

Can only damage creatures, not your opponent anymore

Scour the Void - making this cheaper allows it to go into more decks while also increasing the variety of finishers Black decks use

8 mana > 5 mana
Now adds 4 random cards from your opponent's graveyard to your hand, instead of every card

Recruitment Center (renamed to Training Yard) - White was struggling with keeping up with other colors later in the game, so this should help

Now gives the creatures you get +1/+1 instead of making them cost 0

Refreshment Stand - starting each player with extra mana created matchups that were too polarizing

New design: "At the start of each player's first turn, that player adds a random multicolored card to their hand."

Sisters of Stone Death - now this card is beatable! shattering statues is hard work

Statues are now 2/2 and can't attack
Card Number Changes
We made a lot of changes to mana costs, stats, and minor abilities in this build to improve color and Planeswalker balance. Red and Black aggressive cards specifically were winning more than the other colors, so you'll see a lot of our attention was focused there. But there are a lot of other cards that needed tweaking as well and we are committed to taking pro-active steps to improve the game!
Celestial Protector
Scathing Glare
Vampiric Knight
Lightning Catcher

Finale: Deal 3 damage to your opponent > 2 damage

Peafoul

5 mana > 4 mana
3/2 > 2/2

Ragerunner
Fallen Angel

4/3 > 4/4
Debut: Destroy an enemy creature with power 4 or less > power 3 or less

Takedown

Destroy an enemy creature with power 4 or less > power 3 or less

Watchwolf
Ghitu Embermage
Two-Headed Hellhound

1 mana > 2 mana
2/1 > 2/2

Giant Growth
Captain of the Dead

4 mana > 5 mana
4/3 > 5/5

Drain Blood

3 mana > 2 mana
Drain an enemy creature for 3 > for 2

Pinpoint Avenger
Energy Extractor
Disorient
Befuddling Merfolk

Debut: Give an enemy creature -2/-0 > -1/-0

Team Captain
Carnage Tyrant

8 mana > 7 mana
8/8 > 8/6

Wavelash Viper

4 mana > 5 mana
3/5 > 4/4

Force of the Wild

On your turn, 3 of your mana gems don't refill > 2 mana gems of your mana gems

Spasmodic Weird

Debut: Gets +1/+0 or +0/+1 at random 12 times > 11 times

Day of Judgment
Tolarian Academy

30% chance to miss mana > 20% chance to miss mana

Shivan Dragon

6 mana > 7 mana
5/5 > 7/7

Danitha Capashen
Gorm the Great
Angler Wurm
Naga Rogue

4/4 > 3/5
After this damages your opponent, mill them for 1 > mill them for 2

Shimmering Komodo
Hellrider
Lorekeeper
Wintergrip Mage
Hoarding Dragon

7 mana > 5 mana
6/4 > 3/5
Finale: Add two random artifacts to your hand > Add one random artifact

Daggerclaw Lord
Sinister Southpaw
Azra Challenger
Mausoleum Witch
Boneclub Shambler
Daughter of Runes

2 mana > 1 mana
2/2 > 1/2

Dead-onator

Finale: Deal 3 damage to yourself > 4 damage

Kothophed

Promise of Knowledge

Deals you 2 damage > 3 damage

Promise of Power

Deals you 4 damage > 3 damage

Promise of Victory

Deals you 6 damage > 3 damage

Akroma
Sparkling Unicorn

2 mana > 3 mana
2/4 > 3/3

Omnath
Grave Pharoah

9 mana > 8 mana
7/7 > 6/6

Shadows of the Past
Soulsever Lich
New Cards!
Elvish Explorer and Gladecover Scout have been added to replace some other cards we removed. (mentioned below)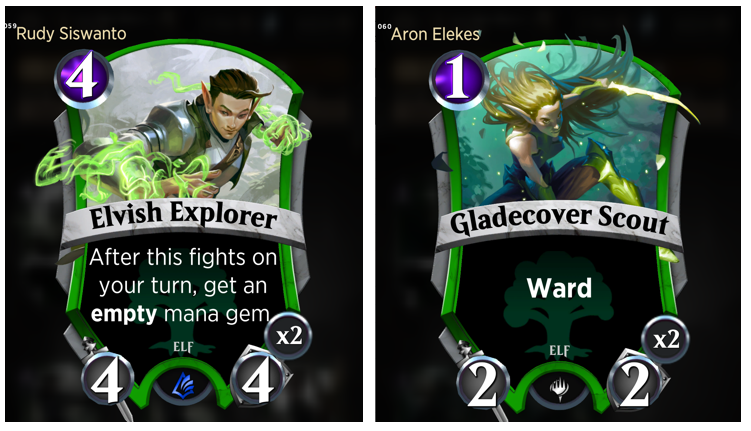 Active Volcano completes the cycle of each color having a rare and epic land.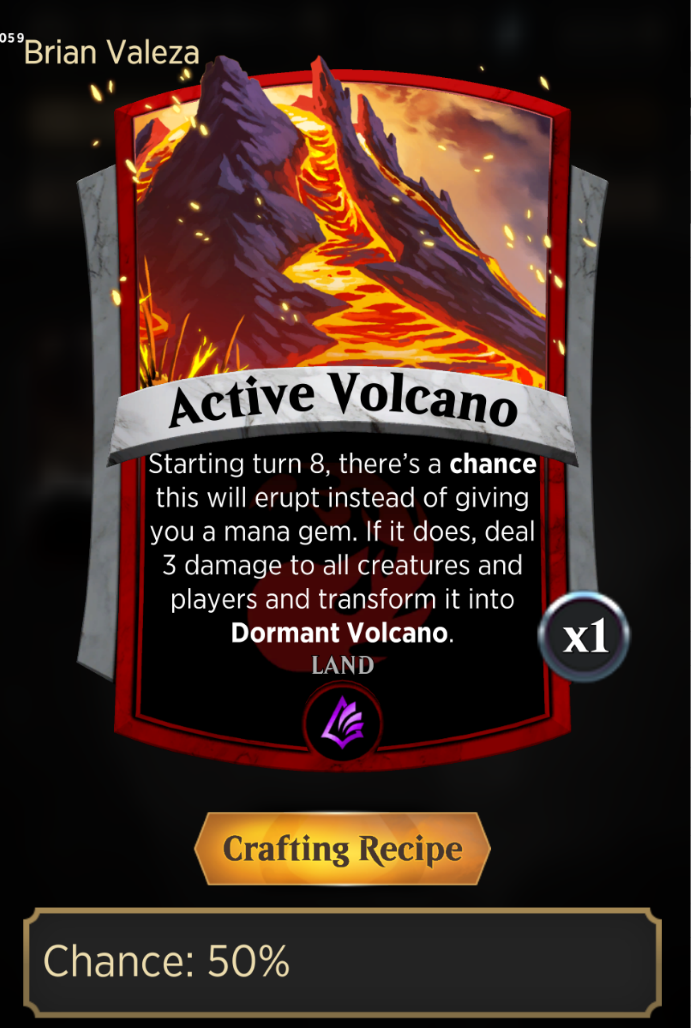 Removed Cards
​We've decided to remove Blank from the game. It only existed on two cards and we are more confident with the other tools that green has to deal with evasive creatures. If you owned these cards, you'll be compensated with crafting materials for having lost them.
Rarity Changes
We made a lot of rarity changes in this build to improve the experience for new players getting cards and building decks.
B = Core Set
C = Common
R = Rare
E = Epic
M = Mythic
| | |
| --- | --- |
| Pearl Dragon | Changes rarity (R > C) |
| Treetop Lookout | Changes rarity (C > R) |
| Soul of the Wood | Changes rarity (R > B) |
| Fungal Beast | Changes rarity (B > C) |
| Bloodletter | Changes rarity (R > C) |
| Under My Watch | Changes rarity (C > R) |
| Ready to Rumble | Changes rarity (R > C) |
| Stronghold Commander | Changes rarity (B > R) |
| Knight of the Tusk | Changes rarity (C > B) |
| Celestial Protector | Changes rarity (R > E) |
| Sparkling Unicorn | Changes rarity (R > E) |
| Immolating Glare | Changes rarity (E > R) |
| Spirit Vial | Changes rarity (E > R) |
| Phantom Warrior | Changes rarity (B > R) |
| Clone | Changes rarity (E > R) |
| Snapshell Turtle | Changes rarity (C > B) |
| Wielder of Waves | Changes rarity (R > C) |
| Mist Raven | Changes rarity (E > C) |
| Energy Extractor | Changes rarity (R > E) |
| Breaching Serpent | Changes rarity (R > E) |
| Tinker | Changes rarity (R > E) |
| Sphinx of Riddles | Changes rarity (C > E) |
| Negate | Changes rarity (R > C) |
| Naga Rogue | Changes rarity (C > R) |
| Opportunity | Changes rarity (R > C) |
| Lorekeeper | Changes rarity (C > R) |
| Wintergrip Mage | Changes rarity (R > C) |
| Dupe | Changes rarity (C > R) |
| Dead-onator | Changes rarity (C > R) |
| Daggerclaw Lord | Changes rarity (R > E) |
| Poxbug Plague | Changes rarity (E > R) |
| Lurking Horror | Changes rarity (C > R) |
| Crazed Ripper | Changes rarity (C > R) |
| Abyssal Chain | Changes rarity (R > C) |
| Ball Lightning | Changes rarity (E > R) |
| Ghitu Embermage | Changes rarity (B > R) |
| Goblin Shortcutter | Changes rarity (R > B) |
| Spearcrown Stag | Changes rarity (R > C) |
| Briarfox | Changes rarity (C > R) |
| Wurm's Wake | Changes rarity (R > C) |
| Birds of Paradise | Changes rarity (E > R) |
| Crush of Wurms | Changes rarity (E > R) |
| Centaur Sage | Changes rarity (R > E) |
| Predator Ooze | Changes rarity (R > E) |
| Millstone | Changes rarity (C > R) |
| Silent Prowler | Changes rarity (B > C) |
| Destabalize | Changes rarity (C > B) |
| Swordsmith | Changes rarity (B > C) |
| Shieldsmith | Changes rarity (B > C) |
| Devoted Steed | Changes rarity (C > B) |
| Sun Empire Brawler | Changes rarity (B > R) |
| Weapon Rack | Changes rarity (R > C) |
| Thwack! | Changes rarity (C > B) |
| Elvish Infuser | Changes rarity (C > B) |
| Vinewhip Druid | Changes rarity (B > C) |
| Sword Cannoneer | Changes rarity (C > B) |
| Firespout Elemental | Changes rarity (R > C) |
| War Horn | Changes rarity (R > C) |
| Scattershot Crossbow | Changes rarity (C > R) |
| Staff of Fortitude | Changes rarity (R > C) |
| Beast Mode | Changes rarity (C > R) |
| Flame Coil | Changes rarity (B > C) |
| Epitome of Might | Changes rarity (E > M) |
| Ravenous Hydra | Changes rarity (M > E) |
| Spawning Hellion | Changes rarity (E > M) |
| Martial Aerialist | Changes rarity (B > C) |
| Agony Warp | Changes rarity (B > C) |
| Takedown | Changes rarity (B > C) |
| Ground Assault | Changes rarity (B > C) |
| Watchwolf | Changes rarity (B > C) |
| Vampiric Knight | Changes rarity (B > C) |
| Firemind Bolt | Changes rarity (B > C) |
| Skyknight Legionnaire | Changes rarity (B > C) |
| Plot | Changes rarity (B > C) |
| Stoneforge Mystic | Changes rarity (E > M) |
| Anaconda Hatchling | Changes rarity (B > C) |
| Draconic Transformation | Changes rarity (M > E) |
| Boneclub Shambler | Changes rarity (R > C) |
| Gluttonous Goo | Changes rarity (B > R) |