Greetings Spellslingers! Thank you all for your continued support of our game. We are excited to release a big tuning update with lots of changes to game balance and progression systems. Details listed below. We are also happy to finally say that you can express yourself in battles with emotes! We hope that you like it. See you in the arena!
New Features
Emotes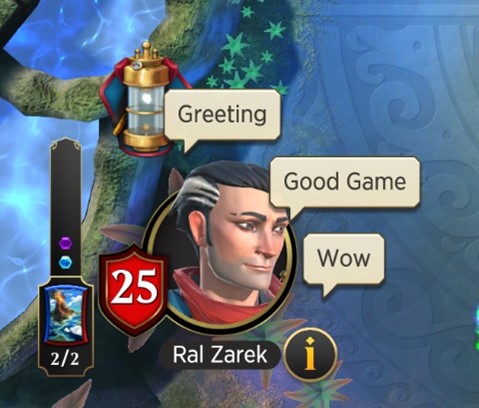 You can now trigger an emote by tapping on your player portrait and selecting one of three options. Go forth and say hello to your fellow challengers!
Opposing emotes can be muted if desired by interacting with your opponent's portrait.
Game System Changes
Foils
You can no longer earn or create a foil card without a full playset of the normal version of that card.
The prices for creating or earning foils have been cut in half.

Recycling foil cards now awards Gilded Lotuses only.
Training Mode
Updated the Training Yard in the mode select menu to be a full game mode.
Economic Changes
Influence
The amount of influence to earn a key has been updated. The influence required to get your first 9 Spellslingers has been slightly increased, but the influence required to get Spellslingers beyond 9 has been dramatically reduced.
The price to buy a Spellslinger with Gems has been reduced to 1,000.
League Chest
The amount of Mox Shards given by each league chest has been increased.
Every league chest will give you a small amount of bonus influence in addition to the influence gained from the card reward, with the amount of influence scaling up each league.
The gem reward from league chests has been removed.
Challenge Prizes
The number of challenges to earn a foil prize has been reduced to be the same as creating a normal version of the card across all rarities.
The number of challenges to earn a mythic or epic card has been increased.
Rare Value
The price of a rare card in the Daily Deals store has been increased to 3,000 gold.
The cost to craft a rare has been increased to 120 Mox Shards / 12 Anima/Essence.
The recycle reward for rare has been increased to 36 Mox Shards.
The Influence gain from a rare has been increased to 20.
Quality of Life Improvements
Moxes in the Daily Deals
The store goblin now offers Mox Shards in the Daily Deals! A stack of 300 Mox Shards will be available for 500 gems in the 6th daily deals slot. This offer can be purchased 4 times each day.
Events
When a new event starts, the mode select button will get a badge.
Adjusted the match queue logic to hopefully get more matches quicker.
Challenges
Daily, Team and Hourly challenges now all have different frames, depending on type.
Game Play
Cards that are created by other cards will now list their source when inspected.
When there is an enchantment affecting a player (for example, Azra Pyromancer's ability preventing you from healing) a number indicator will appear on the Spellslinger's portrait. Inspecting the Spellslinger will list any ongoing effects as a tooltip.
Teams
The max team size is increased to 25 players.
The reward for donating is reduced to 25 gold.
A quick-jump button has been added to Team chat. Tapping it will jump up to the most recent offscreen deck share, duel request, or donation request.
Team Challenges
Team Challenges now refresh every 5 days instead of every 3 days.
All "Win with a specific Spellslinger" challenges have been reduced to 25 wins (down from 100).
All "Play cards of a certain color" challenges have been reduced to 1,250 and their rewards have been increased to 300 Mox Shards.
The "Deal Damage" challenge has had its goal reduced to 2,500 and its reward increased to 300 Mox Diamond Shards.
The "Play Events" challenge has been removed.
League
The formula for calculating trophies earned has been modified. Previously, for each 50-trophy difference in a matchup the higher-ranked player would win 1 fewer trophy (or lose 1 more) and vice versa; the lower-ranked player would win 1 more (or lose 1 less). That number has been changed to 200 trophies. The max and min trophy change for winning or losing remains 40 and 20 (respectively). Hitting these limits will happen far less often, only in extreme matchups where the trophy difference is 2,000 or more.
Deck Showcase
Vin took some time to put better names on the decks in the Deck Showcase.
As usual, Deck Showcase decks have been updated to include decks that are being successful on ladder.
Events
The mode select button will now badge when there is a new event.
The matchmaker has been adjusted to reduce queue times for events.
Card and Gameplay Changes
We have some big changes coming your way this patch that we're excited to share with you! We're pushing on several of the Spellslingers' kits for a couple of reasons.
First, we want to further separate them from each other and amplify the difference in how effectively some cards synergize with different Spellslingers. This should make them play even more asymmetrically, leading to increased gameplay variety.
Additionally, we took this as an opportunity to try to improve on some play patterns for some characters that we felt could benefit from it.
There are a handful of other smaller scale card changes as well to improve the overall balance of the game.
Ajani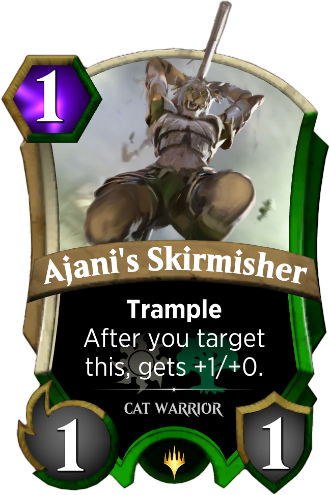 Ajani's Skirmisher - 1/2 → 1/1
This is a straightforward change. We've been happy with how this Skirmisher has helped breathe new life into Ajani, and now we're scaling it back a bit to make it easier to remove.
Ashiok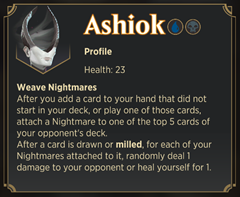 Weave Nightmares now attaches a Nightmare to one of the top 5 cards rather than any card in the opponent's deck. Each Nightmare now either heals you for 1 OR deals 1 damage to your opponent (chosen at random).
This is one of our larger changes. Weave Nightmares has suffered a bit as the special took a very long time to start showing up, before becoming an unstoppable monster in the very late game. This change is aimed at smoothing the Nightmare ride, making them show up more often and earlier in the game but making them less oppressive en masse.
Domri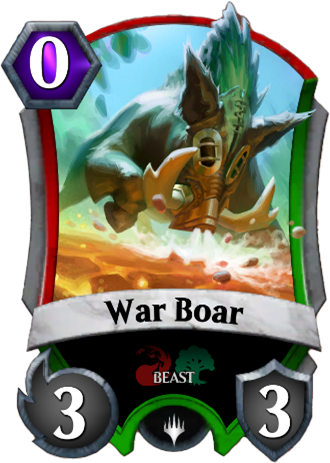 A simple stat change, but it makes Domri better at blocking down small creatures.
Gideon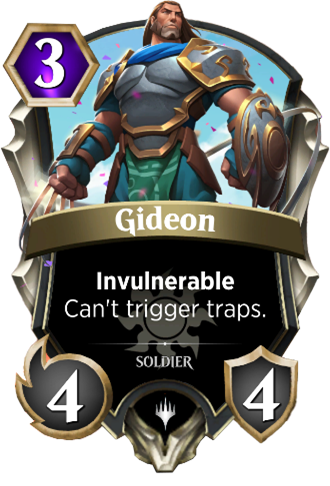 Gideon's been hitting the gym (but probably skipping leg days by our estimation). Making Gideon hit a little harder should make blocking Gideon a larger consideration rather than trying to exhaust the other creatures.
Jace
Multiverse Mind now counts cards drawn for Jace's starting hand.
Jace is a Spellslinger that can have a hard time getting to his special. The potential strength of the ability means we don't want it to be something that happens every game, but we want to make it a bit more attainable.
Kaya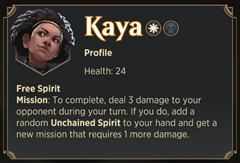 Free Spirit - Kaya's first Mission requires 3 damage to complete instead of 4 damage.
It can be a bit hard to get Kaya rolling sometimes so this should help. We're also curious to see how much it affects her deckbuilding now that the Spirits start coming out even earlier.
Liliana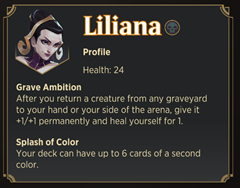 Grave Ambition now permanently buffs affected creatures, even when they are returned to hand or shuffled into a deck.
This is novel mechanical space for Spellslingers. We're looking forward to seeing how many times a single creature can be brought back from the graveyard!
Nahiri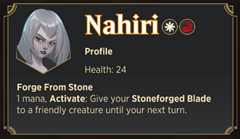 Stoneforge Blade now lasts until the start of Nahiri's next turn.
Welcome back to your former glory, Nahiri! With more power going into other Spellslingers, we want to give Nahiri a better chance to compete against them with this revision.
Nissa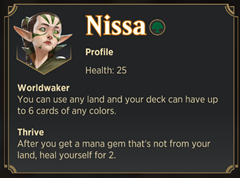 Thrive now heals 2 instead of 1.
Nissa is taking the metaphorical gloves off and buffering her life total more with each extra mana gem. Not to worry, she'll keep her physical gloves so that her hands stay nice and toasty.
Ral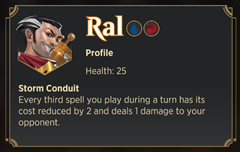 Storm Conduit now deals 1 damage to your opponent in addition to reducing spell costs.
What's a storm without a little lightning?
General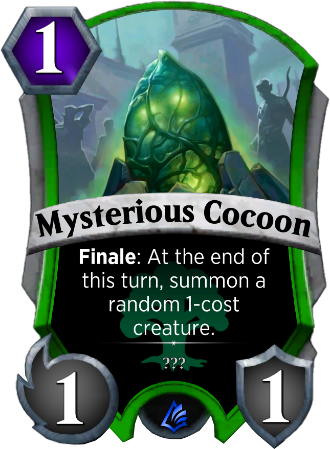 Mysterious Cocoon - Finale: Add a creature to your hand that costs 3 or less. → Finale: At the end of this turn, summon a random 1-cost creature.
We want to try getting some more finales that have more immediate impact into the game, and this is an early foray into that space.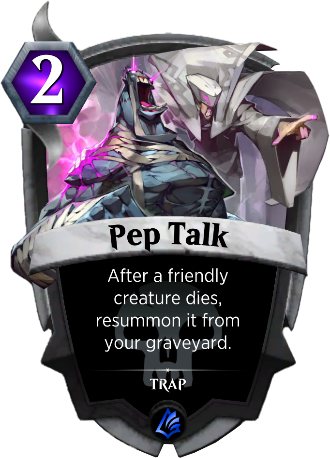 Pep Talk - 3 mana → 2 mana
This is a bit of a companion to the Liliana change, making it more likely people want to play the cards that help enable multiple recursions.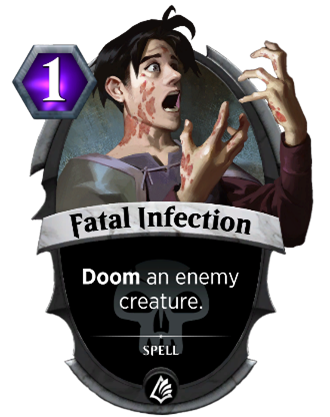 Fatal Infection - 2 mana → 1 mana
This is a card that is difficult enough to use effectively that we want it to be easier to cast.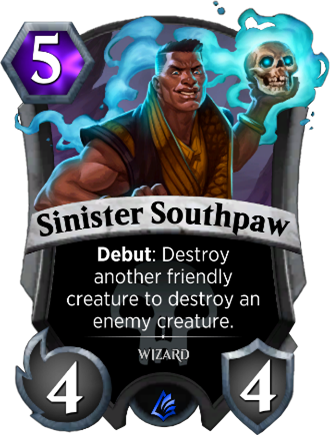 Sinister Southpaw - 6 mana → 5 mana
The Southpaw has felt a bit steep in cost to make it into many decks given how difficult it can sometimes be to sacrifice one of your own creatures, and we want to lower that barrier a little.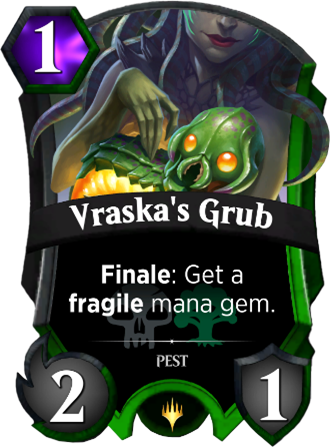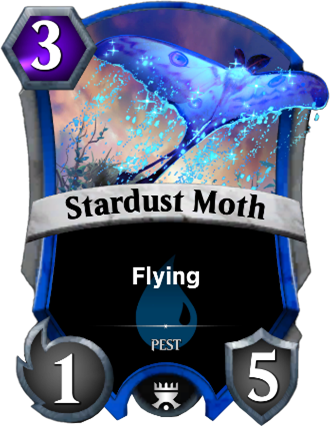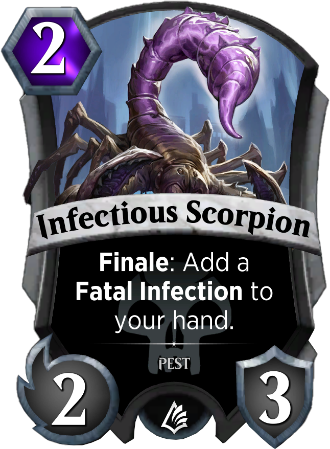 Infectious Scorpion, Stardust Moth, and Vraska's Grub - Bug → Pest
Creature type updated change to better align existing and future content (and not have to argue over the scientific definition of "bug").
Bug Fixes
General
Resolved an issue that could cause inspect mode to not be able to be closed by any means other than activating the history button.
Fixed several issues that could cause Team chat messages to appear in the wrong order.
Resolved an issue where Vin was overcounting foil cards when suggesting a deck for users.
Fixed a bug that caused decks to remain invalid after crafting missing cards.
Fixed a bug that could cause the banners to not transition correctly when changing modes.
Team badges will no longer show as a ? after winning or losing an event game.
Fixed a crash that could occur if one user quit the match before the other joined.
Gaining fragile mana gems will now correctly increment the gain mana gems challenge.
Fixed a texture problem with the blue arena.
Spellslingers
Foil copies of Magnum Opus will now correctly cost Mox Diamond Shards instead of Mox Ruby Shards.
Fixed an issue that would cause Unchained Sprits or Nightmares to get stuck on the Spellslinger's portrait for a few moments before resolving.
Cut Down will no longer remember an increased casting cost when returned to hand by completing a mission.
Triggering Wurm's Wake as your fifth creature will now correctly trigger Domri's Unbridled Rage ability and add a War Boar to hand.
You can no longer toggle the Gideon creature from Gideon's Lead the Charge ability out of attack position.
Fixed a bug that caused Nahiri's flying stone on the main menu to sometimes be invisible.
Gameplay
Fixed a case where both players taking lethal damage did not result in a draw game.
If two traps are armed and the first trap kills the attacker, the second trap will not trigger.
Milled and countered cards now count as having gone to the graveyard.
Interacting with your opponent's creatures no longer triggers Vin's Summoning Sickness reminder.
Resolved a case that could cause ward to sometimes not wear off correctly.
Two-Headed Hellhound now correctly gets the power buff from Giant Growth before fighting.
Fixed a bug where the Doom visual effect would not clear on a Doomed creature that was transformed into a Statue.
Channeler of Might will no longer display a yellow highlight if it is the only creature in hand with 5 or more power.
Using Panharmonicon on Kothophed or Trostani will no longer leave a lingering VFX in the arena.
Playing Draconic Transformation will now update the cards-in-deck count immediately.
Fixed an issue that was causing a trampling Blood Queen Drana to gain the incorrect amount of health.
Resolved visual timing issues with Gladecover Warden and creatures that summon creatures as part of their debut.
Fixed some cases where Liliana's Goliath would not gain stats correctly when interacting with Champions Grit.
Fling will no longer be able to damage creatures protected by Tajic the Legon's Edge ability.
Under My Watch will now interact correctly with Tini, Puffed Doom.
Evil Twin's debut will now correctly be re-directed by Under My Watch.
You will no longer receive a Silent Strike when flinging Virtus the Veiled at the opponent.
There will no longer be a delay between gaining fragile mana gems and Omnath's ability triggering.
Fixed a crash that could occur if when Mastermind Lazav was played a second time after being remanded.
Fling's damage will now correctly count towards the "Deal Spell Damage" Challenge.