Greetings Spellslingers!
Are you ready to delve into dungeons along with the heroes and villains of Dungeons & Dragons Forgotten Realms? Welcome to D&D Icons, Magic Spellslingers first expansion.
Table of Contents
New Features
Drizzt is here and ready for adventure!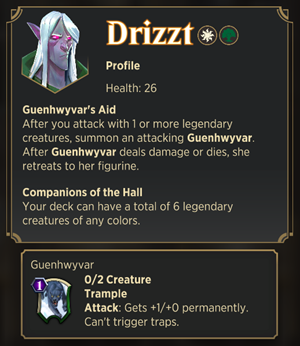 Signature Cards (and a token)

D&D Icons Mini Set Release!
Class Cards
What D&D adventure would be complete without classes and leveling up? In D&D Icons you can add 1 of 5 different class cards to your deck.
When you start a match with a class card in your deck, you will begin your adventure before the first turn. The class's level 1 card gets shuffled into the top 3 cards of your deck.
The first time you play a card from your class, its Level Up ability adds the next card from that class to the top 3 cards of your deck. Each class has three levels, granting a final reward when you reach the maximum level.
Will you be a Raging Barbarian? A Noble Paladin? Show the competitors of Valor's Reach that you are truly in a class of your own.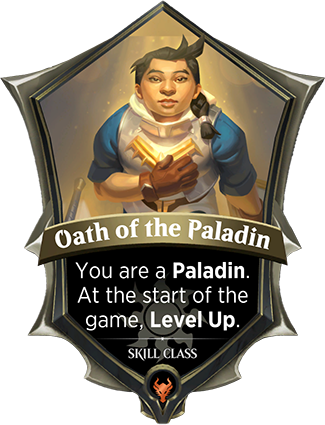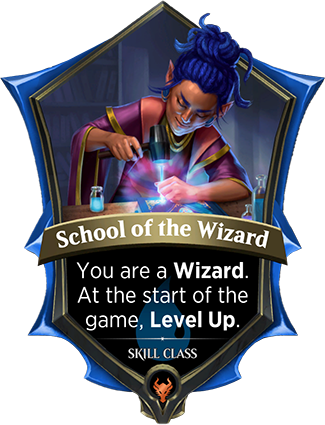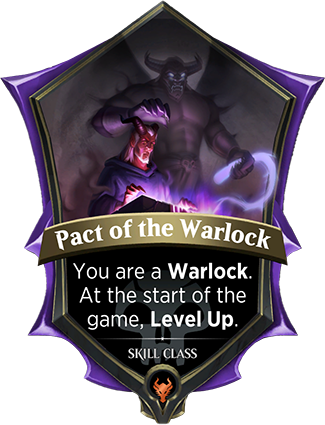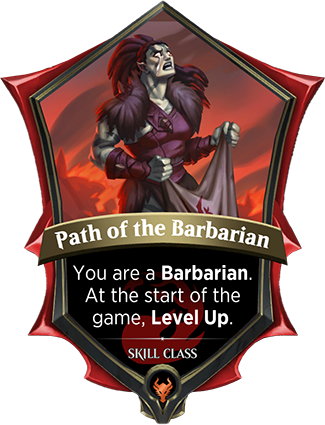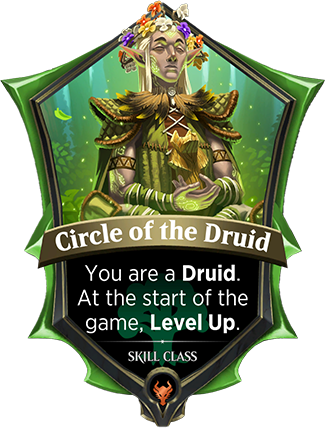 Game System Changes
Ladder Season Reset
To give everyone an opportunity to achieve new heights (and a league promotion booster pack) and prevent the top players from resting on their laurels, we have reset most players by 1 league:

Players in the Silver league and above have been moved back to the start of the previous league.

Mythic → Diamond
Diamond → Platinum
Platinum → Gold
Gold → Silver
Silver → Bronze

Players in the Bronze league have been reset to the start of Bronze.
Play league is unaffected.
NOTE: As part of the v1.01 update, our intention was to reset all players down 1 league (but no lower than Bronze). Unfortunately, an issue during downtime resulted in the reset occurring 3 times instead of 1 (though still no lower than Bronze).
After careful consideration, we've made the decision to leave the reset where it stands. The playing field is still level, and everyone will still earn rewards for increasing league ranking, which means as many as 3 extra rewards now instead of just 1. For future updates, we will make sure that the reset is only 1 league as originally intended. We apologize for any confusion or inconvenience that this may have caused.
Packs
All 41 new D&D Icons cards are available in packs as normal.
Events
Into the Portal - From now until 5pm Pacific time September 16, 2022 you can participate in the Into the Portal event to win Mox Shards and a copy of the mythic land card The Yawning Portal.

Deck Showcase
Vin is classing up the joint with new class-based decks for every Spellsinger including Drizzt.
Marketplace
The Daily Deals and specials will be offering D&D Icon cards. Check 'em out!
Challenges
Look for a new special "Play Legendary cards" Challenge in the set of rotating challenges
Card and Gameplay Changes
Generally, new infusions into the card pool (such as D&D Icons) can do most of the heavy lifting when it comes to shaking up the metagame. That said, there were two standout performers we wanted to address while unleashing new cards into the environment:
Liliana's share of the metagame among some of the lower leagues was much higher than we were comfortable with.
Ral's win rate and metagame share in the higher leagues were both noticeably ahead of his competition.
See the details below for how we're reining in those overachievers.
Planeswalkers
Liliana
Lowering Liliana's health helps play up the potential vulnerability of keeping a battlefield of creatures that can't block.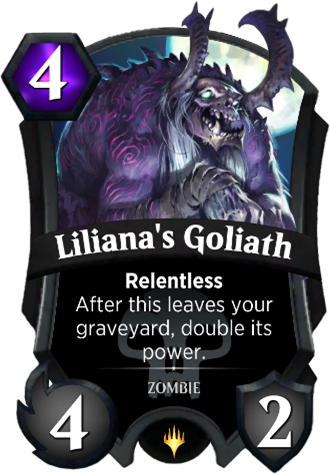 Liliana's Goliath - 4/3 → 4/2
Lowering the health on Liliana's Goliath makes it easier to trade with both halves of the creature. Previously, it was not unlikely to be trading down on both cards and mana when dealing with Goliath the hard way. The reduced health means that traditional methods of removing the Goliath will often still take a couple cards, but you'll often be able to use lower mana cost cards to trade both times now.
Ral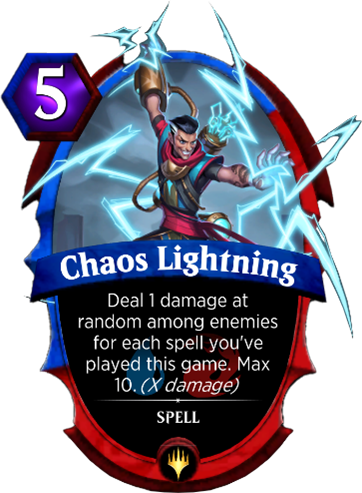 Chaos Lightning - 3 mana → 5 mana
Increasing the cost on Chaos Lightning is aimed at reducing how efficiently Ral can execute their game plan. This should create more situations where Ral has to decide between progressing the plan and disrupting the opponent rather than both simultaneously.
General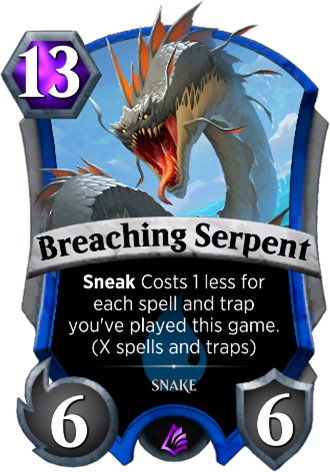 Breaching Serpent - 11 mana 7/7 → 13 mana 6/6
The cost increase on Breaching Serpent is along the same lines as the Chaos Lightning change. We want to push back the turn the Serpent shows up on the cheap and make it less powerful and more fragile.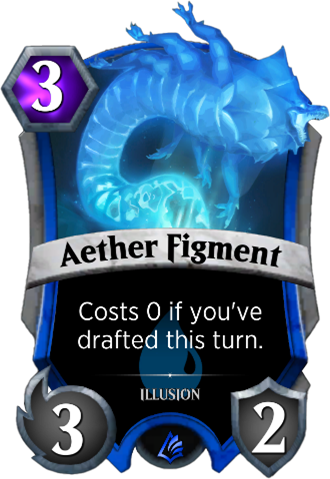 Aether Figment - 3/3 → 3/2
Once again, this is targeting the subset of cards that Ral often plays to keep pace on the board while building up a hand. The loss of a health makes Figment easier to attack into and trade with.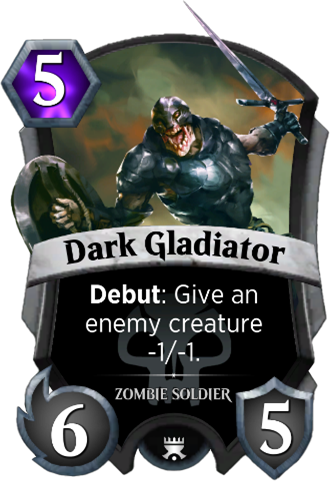 Dark Gladiator - 5/5, Debut: Give an enemy creature -2/-2 → 6/5, Debut: Give an enemy creature -1/-1
This change to Dark Gladiator is looking to create more weak spots in Liliana's defenses. A -2/-2 debuff is much more likely to completely remove or neutralize an enemy creature. It did a bit too much to help Liliana stabilize against aggressive decks and evasive threats.
Bug Fixes
Fixed a bug where cards dragged back to hand are played anyway.
Fixed a bug where sometimes a dismissible error message appeared while playing as or against Domri.
Fixed a bug where crafting a card from an imported deck sometimes caused a dismissible error message to appear.
Fixed a bug where Ashiok's Weave Nightmares ability sometimes fails to attach a Nightmare when fewer than 10 cards remain in the opponent's deck.