Hello, and welcome folks to another patch update!
As always thank you for your support of our game as we make continue to make progress in our builds. This release was focused heavily on the new user experience and keeping up our improved stability. There are some card changes and game system updates as well and a long list of bug fixes. So with that, here are the patch notes from the build and thanks!


Game Systems Changes
Crafting
We dramatically lowered the Mox Crafting Cost of all cards.
Common (100 → 30)
Rare (300 → 60)
Epic (1200 → 600)
Mythic (3600 → 1200)
We wanted to make team donations more rewarding, lowering this cost takes it from 36 requests to get a mythic card down to 12.
We reduced the Foil Crafting Costs and changed to 1 foil crafting material (down from 6).

Users should see all their various colored Gilded Lotus' combined into one Prismatic Lotus which is now used to create foils cards regardless of color.

All foil Crafting Costs rebalanced given the above changes so that creating a foil card is always 2x the cost of creating the normal version.
We moved towards a system where foils are always 2x cost of the card to craft, and make it easier to acquire the foil material you need.
Recycling now only rewards Mox Shards of the color of the card recycled and updated the reward amounts given the new crafting costs.
We wanted players to have more clarity as to what they get when they recycle, and make it clear that Mox Shards come from Recycling and Crafting Materials from Team Donations.


Other Systems
Challenges
We added a New Daily Challenge to Play a Match in addition to the current Daily Damage Challenge.
Vin is now offering Face-Up Cards and Card Packs as Challenge Prizes.
Rotating Challenges now refresh 1 Challenge every 2 hours.
Adjusted down the gem reward for the Daily Damage Challenge.


League
We adjusted the Matchmaking and Trophy formulae, users should find matches more easily now.
Users cannot lose trophies until they have more than 400.
Every level of League Chests now award additional gems.


Teams
The ability to Join teams now unlocks at level 5 instead of level 7.


Card Changes
Redesigns
Variable Power and Layering Rules
Cards that gain or lose power from their own ability are fine and dandy on their own, but when other cards interact with them, it can lead to some confusing results. We want players to be able to predict game interactions and have redesigned several of the biggest offenders.


Vainglorious Hero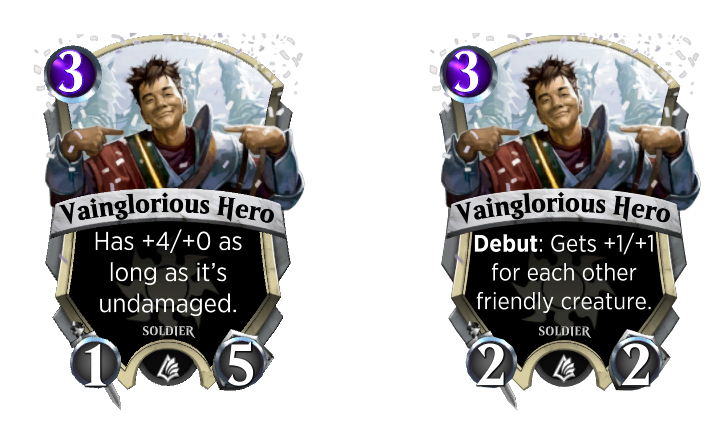 1/5, +4/+0 while undamaged → 2/2, Debut: +1/+1 for each other friendly creature
Vainglorious Hero is a little disappointed that this change was more about layering than about himself, and he's going to have to be more of a team player now. Hero is happy to consider your other creatures his own personal fan club, just make sure you don't tell him otherwise.


Runeshell Crab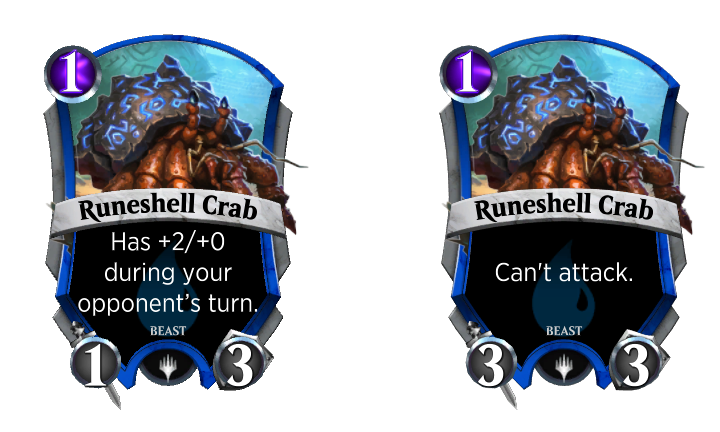 1/3, +2/+0 on your opponent's turn → 3/3, Can't attack
Runeshell Crab is a very useful defensive one mana creature, and we're staying true to the previous design. It will now have a permanent power of 3 instead of powering up on the opponent's turn. To compensate, it is unable to attack. No more player pinching for you, little scuttler.


Runeshell King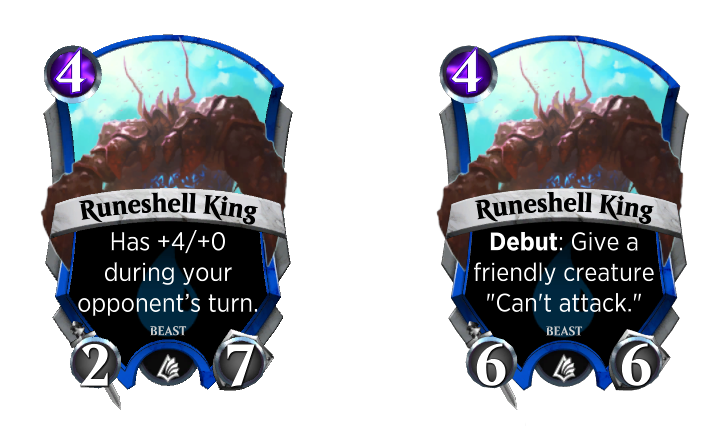 2/7, +4/+0 on your opponent's turn → 6/6, Debut: Give a friendly creature "Can't attack"
We still wanted Runeshell King to be a formidable defensive creature, but we also wanted to increase Blue's ability to present some threatening creatures in the midgame. If you have another creature, you can use Runeshell King's new debut on that creature rather than itself, making the King a formidable attacker. What little pinch we took away from Runeshell Crab, we are more than giving back to Runeshell King. Long live the king!
Other Redesigns
Negate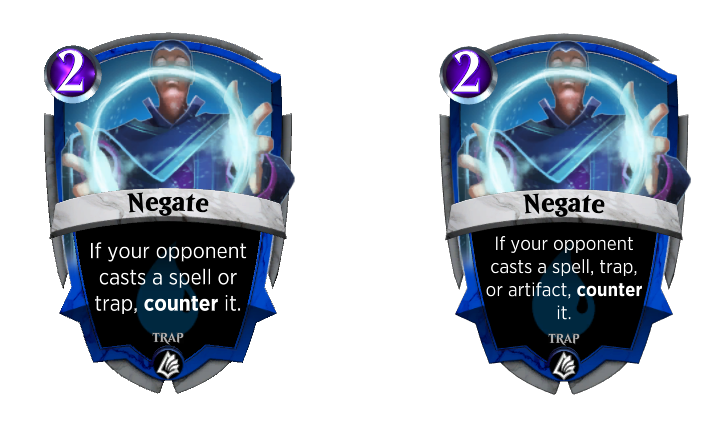 Now counters artifacts as well
Negate is getting a little quality of life upgrade. Having this tool in the environment provides another good safeguard to an otherwise difficult to interact with card type. It seems fitting that this can now counter the final non-creature card type. Except lands I guess. Maybe someday Tarmogoyfs will find a way to power up with a land in the graveyard, but today is not that day.
Dark Gladiator/Captain of the Dead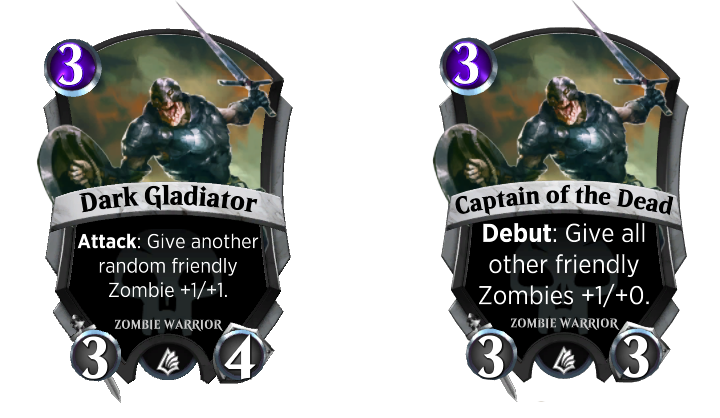 3/4, Attack: Give another random friendly Zombie +1/+1 → 3/3, Debut: Give other friendly Zombies +1/+0; Name swap between Dark Gladiator and Captain of the Dead
We want Captain of the Dead (formerly known as Dark Gladiator) to loudly scream "Play me with a horde of Zombies!" rather than be a tool to build Zombies slowly over time. As it happens, the Captain usually only slowly mumbles and hisses incoherently, but hopefully the new ability can get the message across.
Ravenous Pit Lord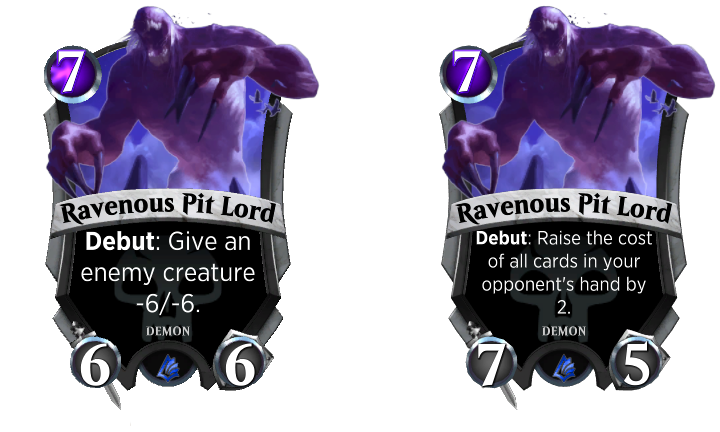 6/6, Debut: Give an enemy creature -6/-6 → 7/5, Debut: Raise the cost of all cards in your opponent's hand by 2
Bone Collector and Cranial Consultant give a glimpse into Black's ability to interact with an opponent's hand, but we wanted to help reinforce that and pull away a bit from its many ways to remove creatures. Ravenous Pit Lord will be switching roles and should now serve as an effective tool against greedy decks that hoard a bunch of cards in hand.


Shadowmage Saboteur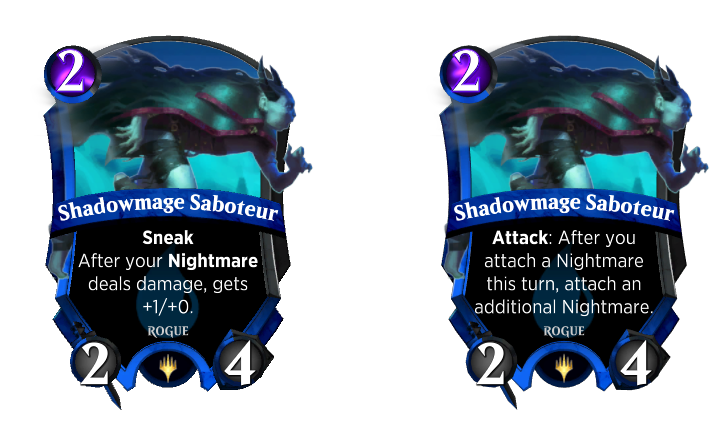 After your Nightmare deals damage, gets +1/+0 → Attack: After you give a Nightmare this turn, give an additional Nightmare
The previous Shadowmage Saboteur had an unfortunate tension that made it difficult to feel good about attacking and foregoing a potentially large sneak attack later. This new design is more about giving your opponent more of what they love to hate. Or maybe hates to hate?


Aiming for the Sky
Given green's lack of flying creatures, we wanted to help the color bring opposing aerial nuisances down to earth. These are the first steps (or are they jumps?) in that direction to test the skies and see what falls out of it.
Elvish Archer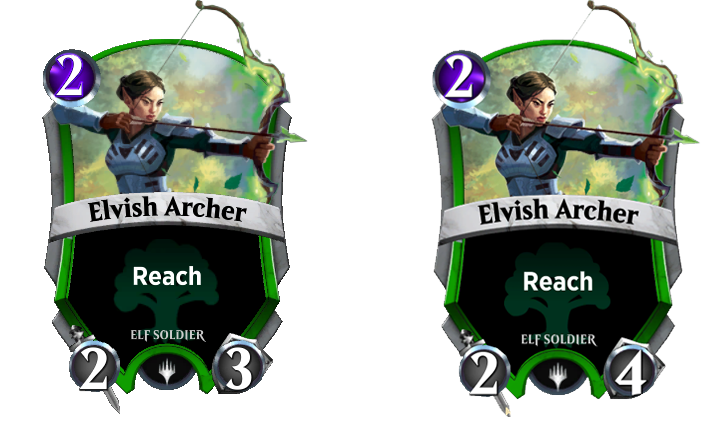 Elite Forest Guard
Plummet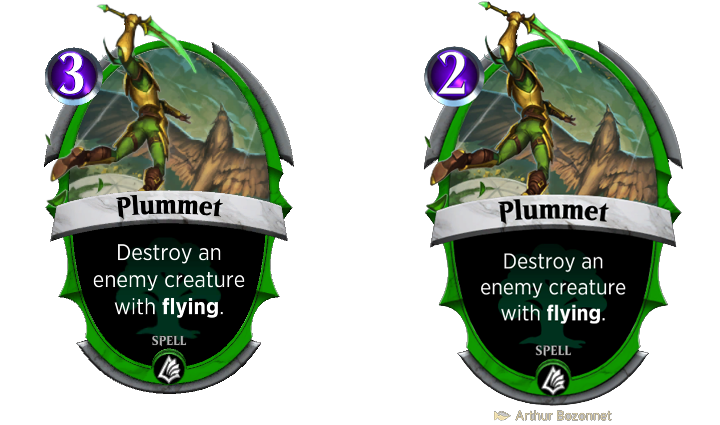 Finale Buffs
We wanted to give Vraska a little "oomph" on her potential suite of creatures to be better able to take advantage of her Planeswalker ability. To that end, we're bumping the power on a handful of creatures targeted at giving Vraska some more "powerful" tools. Additionally, we wanted to make it a bit easier to utilize Vraska's Throne by making it easier to slip into play when you have a spare mana.


Vraska's Throne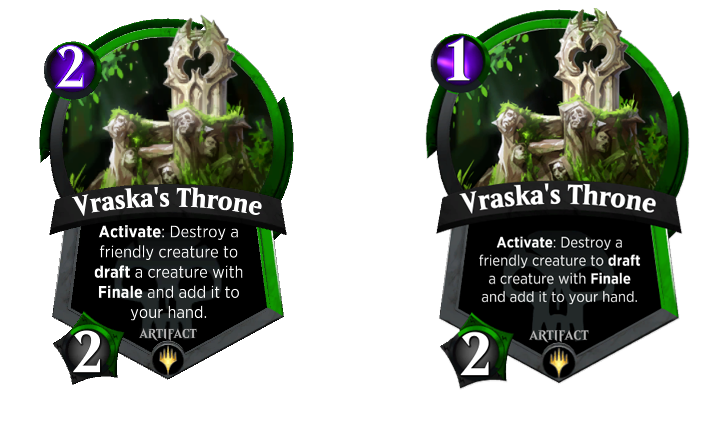 Vraska's Grub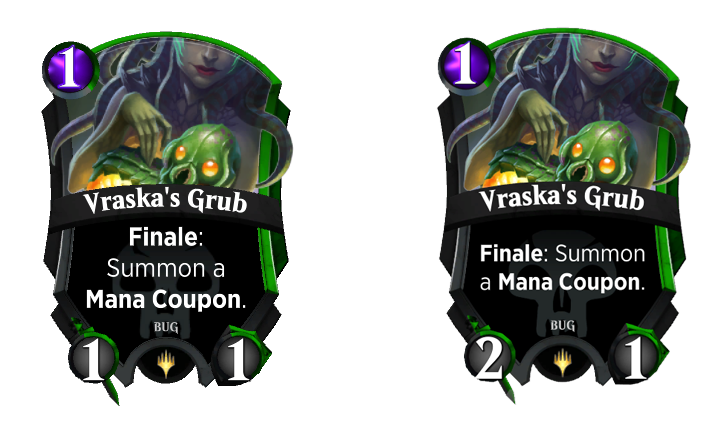 Deathspeaker Naga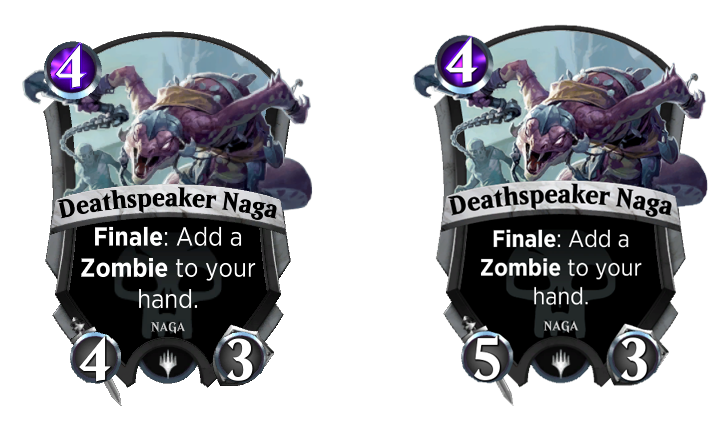 Mysterious Cocoon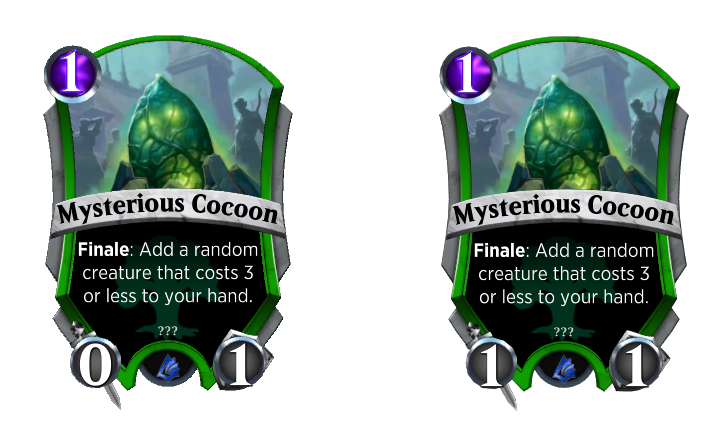 Boneclub Shambler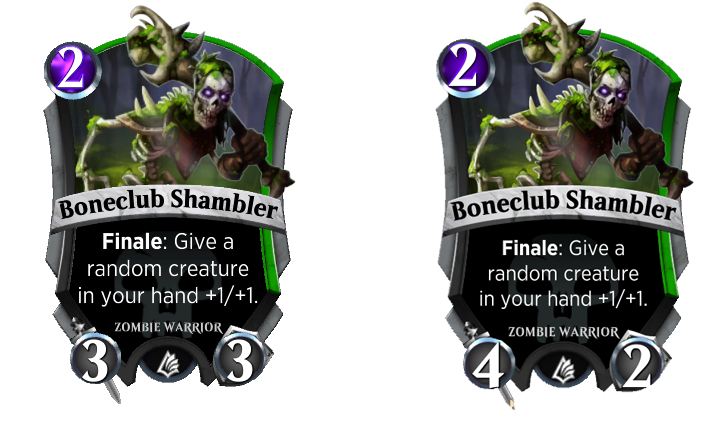 Other Adjustments
Eminent Archangel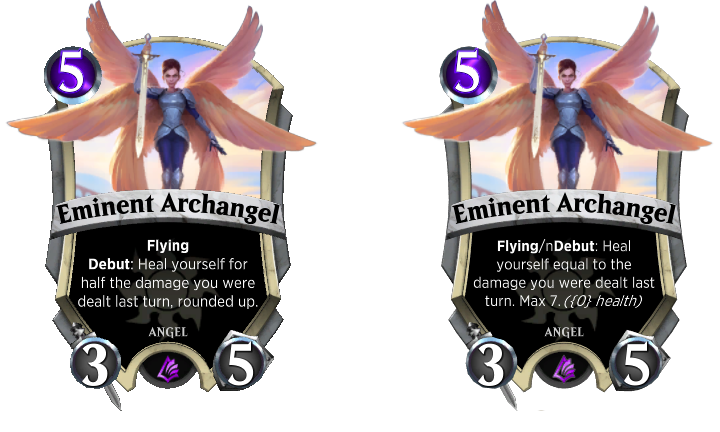 Debut: Heal yourself for half the damage you were dealt last turn → Debut: Heal yourself equal to the damage you were dealt last turn (max of 7)
We've been trying to put more power into cards that are most useful in catching players up when they are behind, and that imminently brought us to everyone's favorite Spellslingers Archangel (it's our only Archangel right now, but still). This change should make it more effective at giving you more time to stabilize against aggressive decks. It's also nice to give this card a more "epic" line of text.


Windborne Roc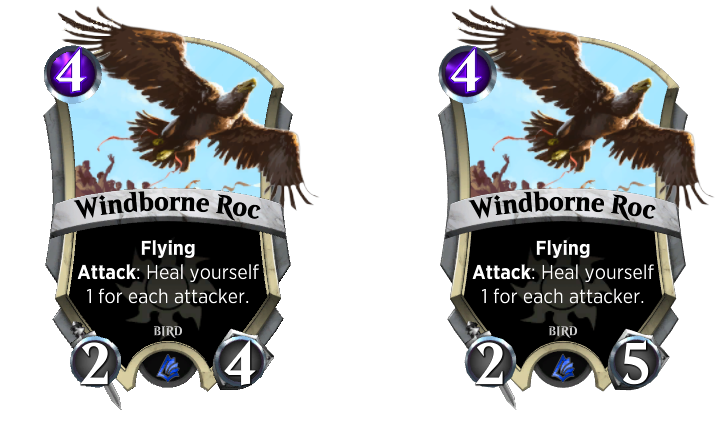 2/4 → 2/5
Windborne Roc is another card that we wanted to be stronger against aggressive decks. The fifth health should help its survivability and make those matchups more im-peck-able.


Arcanis, the Archmage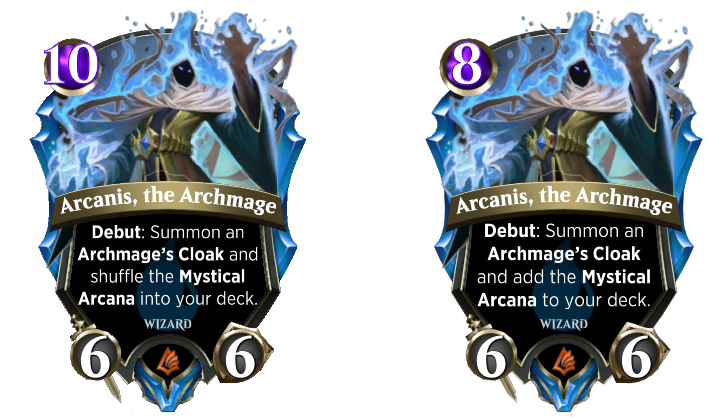 10 mana → 8 mana
Arcanis has the potential to serve as an effective win condition, but the full impact of the card can take a little while to develop. We're happy to report that Arcanis has been focusing on his craft and dropped his mana cost to have more time to utilize the Mystical Arcana.


Carnage Tyrant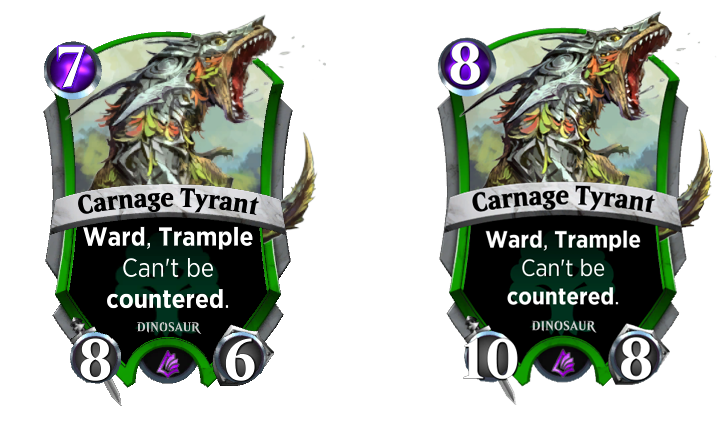 7 mana 8/6 → 8 mana 10/8
Carnage Tyrant suffered from being in a crowded mana cost alongside Primeval Titan and Ravenous Hydra and had a harder time finding a home. We're bumping up the cost to 8 and pushing more power into its role as a reliable, large, damaging threat.


Jace's Apprentice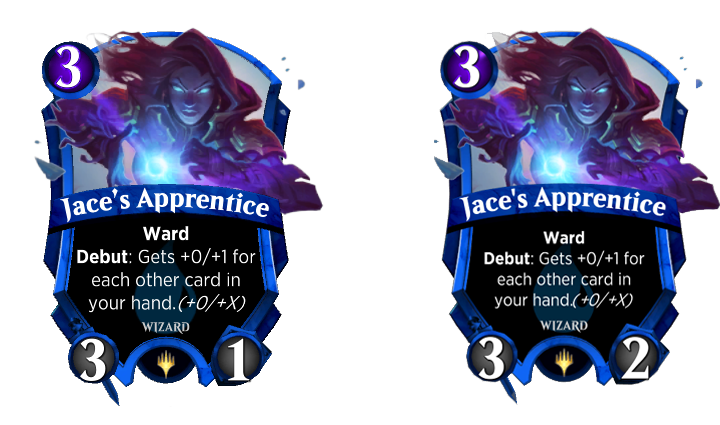 3/1 → 3/2
Jace certainly enjoyed a boost in the last update, but as any blue mage knows, there is always room for improvement. This is a small change to help nudge Jace to where we would like him to be.


Angrath's Deathraider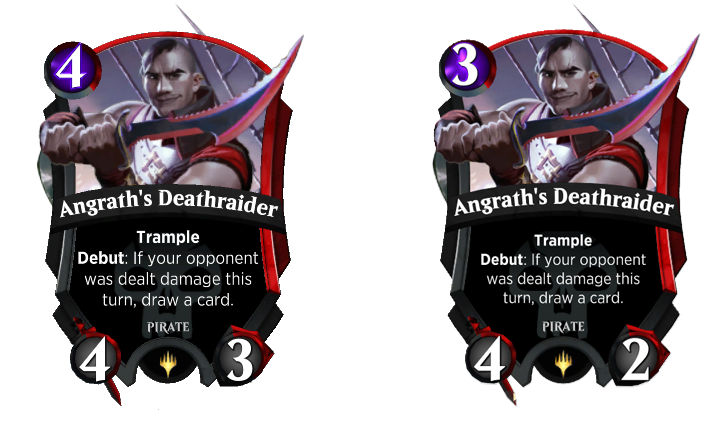 4 mana 4/3 → 3 mana 4/2
Angrath's Deathraider was falling a bit shy of where we would like. Dropping this to 3 mana makes this a bit stronger and easier to continue triggering Hammer Home.


Draconic Transformation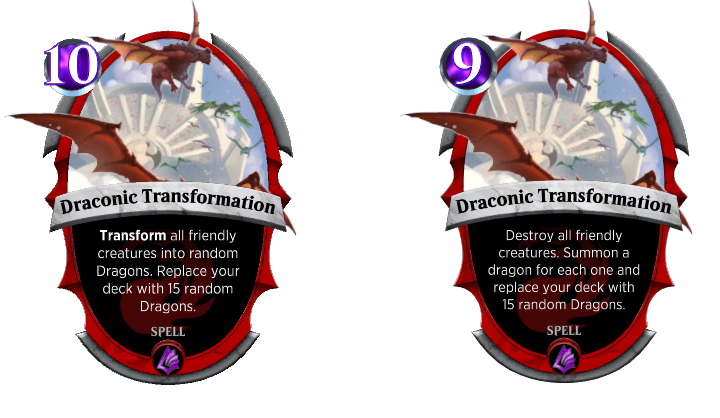 10 mana, Transform all friendly creatures into dragons → 9 mana, Destroy all friendly creatures and summon a dragon for each
Draconic Transformation is an incredibly powerful effect with a few spare creatures in play that was ending many games the turn it was played. While there is some amount of counterplay to it and it does cost a hefty amount of mana, we hope to make this easier to interact with by removing the ability to attack with the dragons on the same turn you play Draconic Transformation (unless there happens to be hasty Volcanic Dragons!).


Spearcrown Stag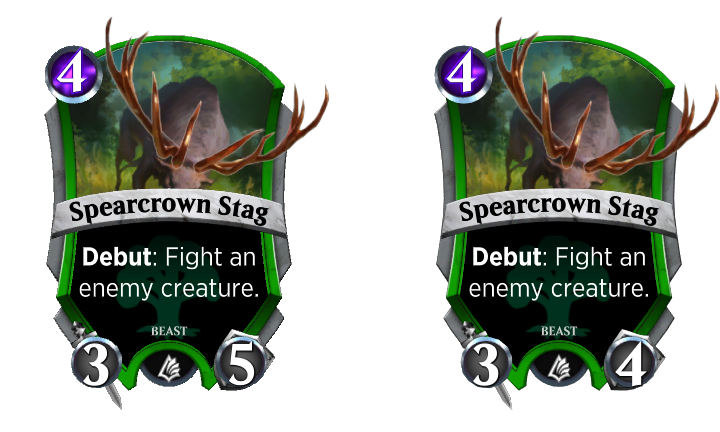 3/5 → 3/4
Spearcrown Stag, while we are very fawnd of you, you have been crowding out many 4 mana green options. We're hoping losing this point of health creates a little more room for other cards to compete.
Bug Fixes
Fixes included in this release for notable issues.
General
Stability improvements should resolve many match shutting down and disconnect errors.
Fixed an issue where returning a creature to a player's hand that did not start in their deck could cause a match shut down.
Resolved a crash issue when

Deep-Forest Arena's ability resolved on a creature that had a "Fight" debut.
Fixed an issue that could cause cards that require a target to stick on screen.
Fixed a graphical glitch where a card back would appear in the arena when a creature was unsummoned.
Fixed a graphical issue where sometimes the image of the last card in the users deck would not display.
Added an trophy loss indicator to the main menu.
Deck building rules now correctly explain colorless cards.
Planeswalker Abilities
Trample damage now correctly counts towards Kaya's

Free Spirit

ability.
Fixed an issue that was preventing Domri's

War Boar's stats from being lowered.
Fixed an issue that was causing a crash when a Planeswalker other than Nahiri played

Willful Smith.
Fixed several circumstances that would prevent

Cut Down

from being returned to hand when a mission was completed by Kaya.
Liliana's

Grave Ambition

ability will no longer triggers twice when a creature is returned to hand by

Champion's Grit.
Kaya's

Free Spirit ability now correctly will always give a random Spirit.
Cards & Gameplay
Tolarian Academy

now correctly discounts artifacts that start the game in your hand.
Creatures without summoning sickness will no longer receive haste as a random upgrade.
Fixed issues with sneak not being removed. It should now correctly be removed in cases where the player could have blocked the attacking sneak creature.
Fixed an issue that was preventing "on damage" abilities from triggering with trample damage.
Deathspeaker Naga's foil art in the arena in the arena no longer flickers.
Mastermind Lazav

now correctly displays the ability text of the card it's copying while in hand.
Mastermind Lazav

no longer retains keywords when transforming.
Pep Talk

now correctly triggers when

Recycled Grotesque

replaces a creature.
Panharmonicon

should now correctly work with

Gravedigger's and

Scion of Ashaya's Debut.
Fixed an issue where targeting an opponent's

Mizzum Monstrosity

with

Smite the Monstrous

would trigger the Monstrosity's effect.
Resolved an issue where

Sparkling Unicorn's buff would remain when the it was shuffled into a player's deck.
Fixed an issue where

Extract Fear

could show two copies of the same card.
Vampire Ritualist's reminder text will now always show the correct value.
Fixed cases where some abilities (Get Ahead,

Niv-Mizzit) that were adding cards to your hand were not counting as "draw card" effects.