Thank you as always for your support of our game. We are pleased to present the latest v0.16 update as we continue to listen and make improvements. T

his release was focused on improving stability and quashing the bugs as well as our new social features.

Let's get to the details of this patch!
Feature Updates
Deck Showcase
Vin has unveiled a list of his favorite decks! Check out the Deck Showcase tab to see a list of his decks that you can copy or use as inspiration for your own creations.
Team Duel
Players on a Team will now be able to request a battle with a teammate for fame and glory!
Team Deck Sharing
When inspecting a deck list you can now share it with your Team and allow members to copy it.
Trial by Combat
We added a fifth training match that lets you challenge the AI with your currently equipped deck without fear of losing trophies. Check it out in the training menu!
Game System Changes
League Chests
We have rebalanced the rewards from the League chests and they now all award mox shards in addition to the other rewards.
Daily Deals
The free slot in Daily Deals will now offer mox shards in addition to its other rewards.
Challenges
Some rotating challenges had their gold rewards reduced. We also added a new "Donate 3 times" challenge for players on a Team.
Planeswalker's for Gems
Reduced the cost to buy a Planeswalker with gems (if you have no keys) to 2,000 gems. (Down from 3,000)
Quality of Life Improvements
Teams
Offline Team members now display "Offline for - " so that Team leaders can curate their rosters. Also, your Team's badge is now displayed next to your name in battles.
Traps
Added a new trap UI that should make their activation and use much clearer.
VS Screen Tips
Gameplay tips will now appear on the VS screen while you are waiting for an opponent.
Iconography Update
We updated the backgrounds on cards for power, toughness, and mana to make them clearer and easier to read.
VO Update
Vin and the Planeswalkers should now be more talkative!
Deck Inspect
Inspecting a deck on a mobile device now shows a list view with name, cost, and quantity legible.
Card and Gameplay Changes
Transformation Change
Transformed creatures no longer copy the summoning sickness status of the base creature.
Cards
Draconic Transformation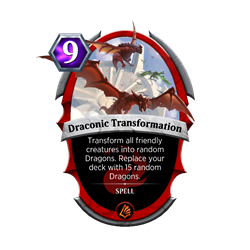 Draconic Transformation now once again transforms creatures into Dragons instead of killing and replacing them.
This was the functionality we wanted all along (just look at the name), but the ability to attack right away with all your creatures that started the turn in play was leaving too little room for counterplay. The destroy-and-summon Dragons version was our way around it, but had issues of its own that we are happy to be able to avoid with this reversion. Not to mention that we now get to live the "when pigs fly" Domri joke again.
Beast Mode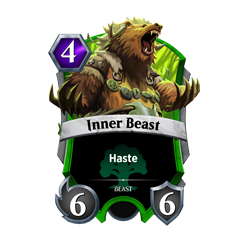 Inner Beast (the token created by Beast Mode) now has haste.
We like how this card has played and it doesn't make a whole lot of sense to go Beast Mode followed by immediately taking a time out, right?
Befuddling Merfolk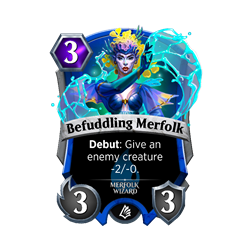 Blue's defensive 3-drop options have not been quite strong enough to break into decks, and we wanted to give a boost to a card that suits that role and is available to all the blue Planeswalkers. Befuddling Merfolk is the card that we aimed at this task, but it seems to have been falling short. So, we're giving it a little more love.
Shadow Weaver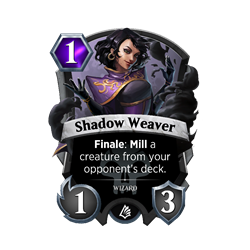 Now mills a creature instead of random card.
This change is a result of one of those overly philosophical conversations that we on the design team apparently love to have (a personal favorite query to bring up is whether you would rather fight one horse-sized duck or 100 duck-sized horses). Long story short, we're trying to differentiate the ways that blue and black do milling and Shadow Weaver got tweaked as a result.
Vampire Ritualist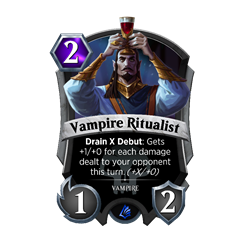 This is a card that we were very conservative with. It's not the type of card we want to be particularly strong because it punishes people that are already taking a big hit to the face. That said, we think giving it a base power of 1 doesn't overly affect how strong it is and might make it more worthy of consideration going forward.
Sacred Sanctum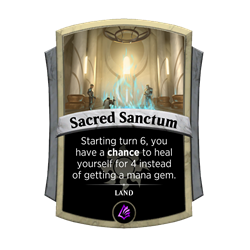 Now has a chance to heal you for 4 starting turn six up from 2 and an empty mana gem.
Sacred Sanctum was missing a little bit of pizzazz. It didn't seem to be appealing enough to the players we hoped might like it, and we thought that may be because so much of the power was put into the empty mana gem rather than what the land actually does. We're going full jazz hands with the healing in this version.
Planeswalkers
Domri
Domri's Planeswalker special has been updated: "When you summon 5 creatures, add a 1-cost War Boar to your hand."
Domri's starting health goes from 28 → 27
Domri's been going hog wild as one of the consistently best performing Planeswalkers and had this slight tweak coming to his Planeswalker special. We wanted to tune him down a bit since this change would have been a slight buff, so we're adding a mana cost to summon War Boars and reducing his health by 1.
Jace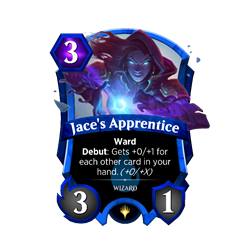 Jace's Apprentice health goes from 2 → 1
With the boost to Befuddling Merfolk, Jace's Apprentice hopefully won't have to do so much of the heavy lifting for Jace to stay alive. Given how annoying Apprentice can be to attack into, we're happy to spread some of the power over to the Merfolk.
Ral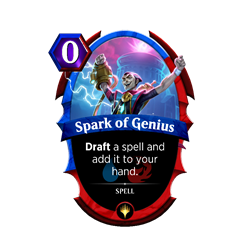 Spark of Genius now drafts a spell instead of adding a random spell.
There was some concern over Ral's performance lately in addition to whether Spark of Genius was a satisfying card to play with for a signature card. To feed two birds with one scone, we're trying Spark of Genius as a draft instead of a random spell.
Subtype Changes
We updated several creature subtypes
Sun Empire Brawler is now a Warrior instead of a Soldier.
Swordsmith is now a Dwarf Artificer instead of just a Dwarf
Daughter of Runes is now a Cleric instead of a Mystic.
Gladecover Scout is now an Elf Ranger instead of just an Elf.
Leonin Healer is now a Cleric instead of a Mystic.
Deathspeaker Naga is now a Snake instead of a Naga.
Ornery Leotau is now a Cat Beast instead of just a Beast.
Inventive Crafter is now an Artificer instead of a Wizard.
Stardust Moth is now a Bug instead of a Beast.
Bug Fixes
Fixes included in this release for notable issues.
General
Fixed an issue where sometimes inspecting cards with the NEW flag did not appropriately remove it.
Fixed a bug that was preventing players from swapping to a foil basic land from a normal basic land.
Fixed an issue that would sometimes prevent players from exiting the Planeswalker select screen.
Fixed situations where Vin's VS VO could be significantly delayed.
Attempting to battle with an invalid deck will now provide informative error messaging.
Viewing a deck with cards you are missing (do not own) will now be appropriately flagged.
Searching Can't Block in the text filter will now correctly display Can't Block cards.
Cards with two subtypes can now be correctly found by searching for just one subtype.
The non-targeted artifact and Planeswalker Power activation ring will now be centered around the power / artifact and not in the center of the screen.
Planeswalkers
Fixed a bug that would prevent Kaya's mission counter from correctly updating when the final damage was done by Cut Down.
Fixed an error that would sometimes trigger when using a returned Cut Down with Kaya.
Fixed a bug that was allowing Gruul Club to be used when one side or the other of the arena was empty.
Gideon, Teferi, and Ral's Planeswalker Special icons now have a background element to make them easier to see.
Liliana will no longer be able to heal back from lethal damage with Grave Ambition.
Kiora's Leviathan, Tidemaker Lorthos, will no longer triple its debut when targeted by Panharmonicon.
Cards & Gameplay
Resolved an issue that would sometimes prevent mana from refilling correctly on your turn.
Fixed a bug that would break the players ability to inspect cards and planeswalkers if they attempted to inspect during the mulligan sequence.
Fixed a recurring error that would appear when a creature with an ability was copied.
Fixed an issue that was preventing cards that affect multiple creatures from being played if the first creature on the opponent's side had ward.
An error will no longer occur when targeting and killing a relentless creature with Evil Twin.
Two-Headed Hellhound will now correctly consider the power buff from Giant Growth when dealing damage.
Blood Queen Drana will play a single animation no matter how much health she gains.
Replaying a Mastermind Lazav that was countered by Remand will no longer cause an error to the match.
Triggering Crippling Bolt on a creature being revived by Pep Talk no longer disconnects both players.
Triggering multiple Pep Talks with a full board with Day of Judgement no longer crashes the game.
Fixed an issue that was preventing Disorient from reducing power below -2.
Fixed a bug that could cause incorrect targeting when a forced fight was re-directed by Under My Watch.
Foil versions of Extract Fear will no longer display pink placeholder textures.
Fixed an issue that was preventing Isochron Scepter from drafting some Planeswalker signature cards.
Tajic, Legion's Edge will no longer grant himself his ability when friendly creatures affected by his ability are destroyed.
Crippling Bolt and Deep-Forest Arena will now correctly trigger on the first creature summoned when two creatures are summoned at once.
Niv-Mizzet, the Firemind will now damage the opponent when his debut is repeated by Panharmonicon.
Cloned versions of cards that trigger off gaining mana gems will now trigger properly.
Casting Animalgamate with 3 or less cards in your deck no longer will trigger the low deck warning.
Adding Mystical Arcana to your deck with only one card remaining will now appropriately stave off the final turn.
Fixed and issues that prevented Draconic Transformation from being cast if you had no creatures in play.
Gravedigger will now be able to dig up milled creatures.
Fixed an error that was preventing copies of cards like Crush of Wurms from duplicating keywords on the original card.
Sneak will now correctly be removed when attacking into an empty board when Grave Disturbance triggers.