Land Ho!
by Glenn Jones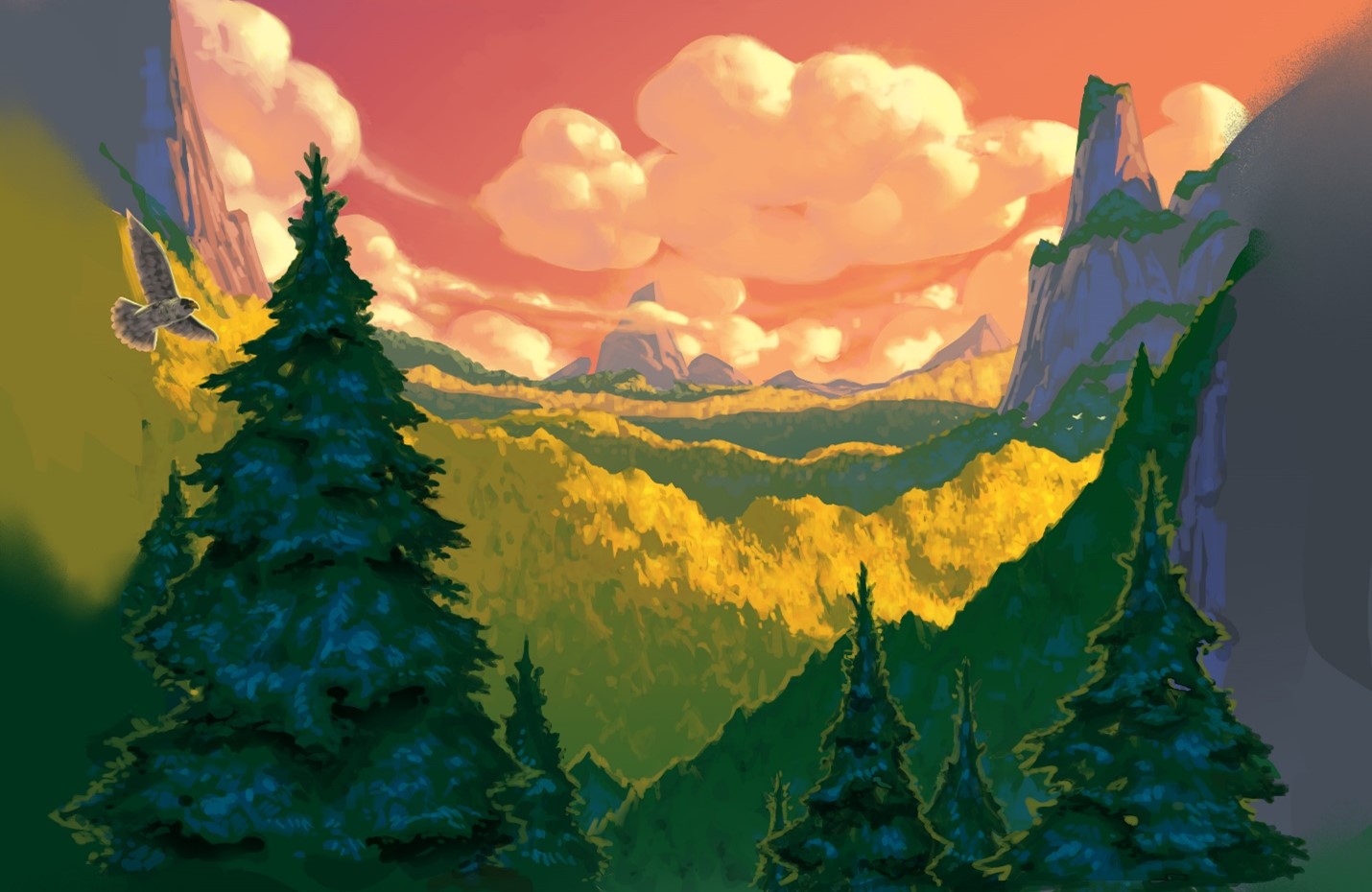 Taiga by Arthur Bozonnet
Hello there! I'm Glenn Jones, a senior game designer working on Magic Spellslingers, Magic: The Gathering®, and by now probably some other secret thing I can't even talk about. What I can talk about is a piece of the Spellslingers game system for which I led vision design: its lands.
Lay of the Land
Magic was groundbreaking in ways that still influence game designs today. Both fans and detractors of Magic most often have strong feelings about its resource system. The uncertain rate at which each player develops resources has served to ensure that games remain interesting and their winners less certain for nearly 30 years. However, the resulting in-game experience of drawing too few or too many lands—mana screw or mana flood, respectively—is unpleasant in the moment. It feels unfair, even though it has the potential to affect every player in every game.
Many games have decided that cost isn't worth the gains, using fixed resource systems that maintain a strict pace and placing more variance elsewhere within the game—effects that generate unpredictable results or possess exploitable weaknesses, that sort of thing.
Land of Opportunity
As a digital descendant of Magic, we wanted our solution to pay homage to one of its primary innovations. However, we also wanted that solution to allow for players who might not enjoy resource uncertainty to still enjoy Spellslingers.
Easy, right?
As the set design team worked on the first set with an early system as a placeholder, my team explored how we could accomplish this feat. Our goals were as follows:
Provide variable and fixed options for generating mana gems within the game.
Avoid making one system dramatically stronger than the other(s).
Avoid creating strength imbalances within the card set.
Make choosing your resource system fun!
Our solution is what you see in the game today: land cards. Each deck includes 1 land card that is set aside and applies for the entire game. Unlike Magic: The Gathering, it is not shuffled into your deck. Players can choose to play either a basic land that gives them a mana gem each turn, or a collectible land that gives them a special ability but also has a chance to miss mana after a certain turn.
| | |
| --- | --- |
| | |
| Basic Land | Collectible Land |
The Promised Lands
Lands rather straightforwardly accomplish our first goal—every Spellslinger has a no-nonsense basic option for one mana gem each turn, and collectible options that make their mana variable. But the other elements on lands—their color, their effect, when the effect is active, how often it's active—provided us with the tools to react to play data and ensure the metagame won't become stagnant, which solved our second and third goals. In design lingo, lands have "good knobs."
As for our fourth goal? Well, that's up to you. Our internal playtesters enjoyed lands quite a bit; Spellslingers whose deckbuilding had always seemed straightforward suddenly had an impactful option on par with their special ability. Leveraging each land's effect often called for different card choices, sometimes even creating divergent archetypes. Design team members even spent a meeting arguing about whether the best Jace deck played Fountain of Magic or Island—I'm an Island fan for now, but who knows what the future may bring . . .