Traps: The Anatomy of Trickery
by John Penick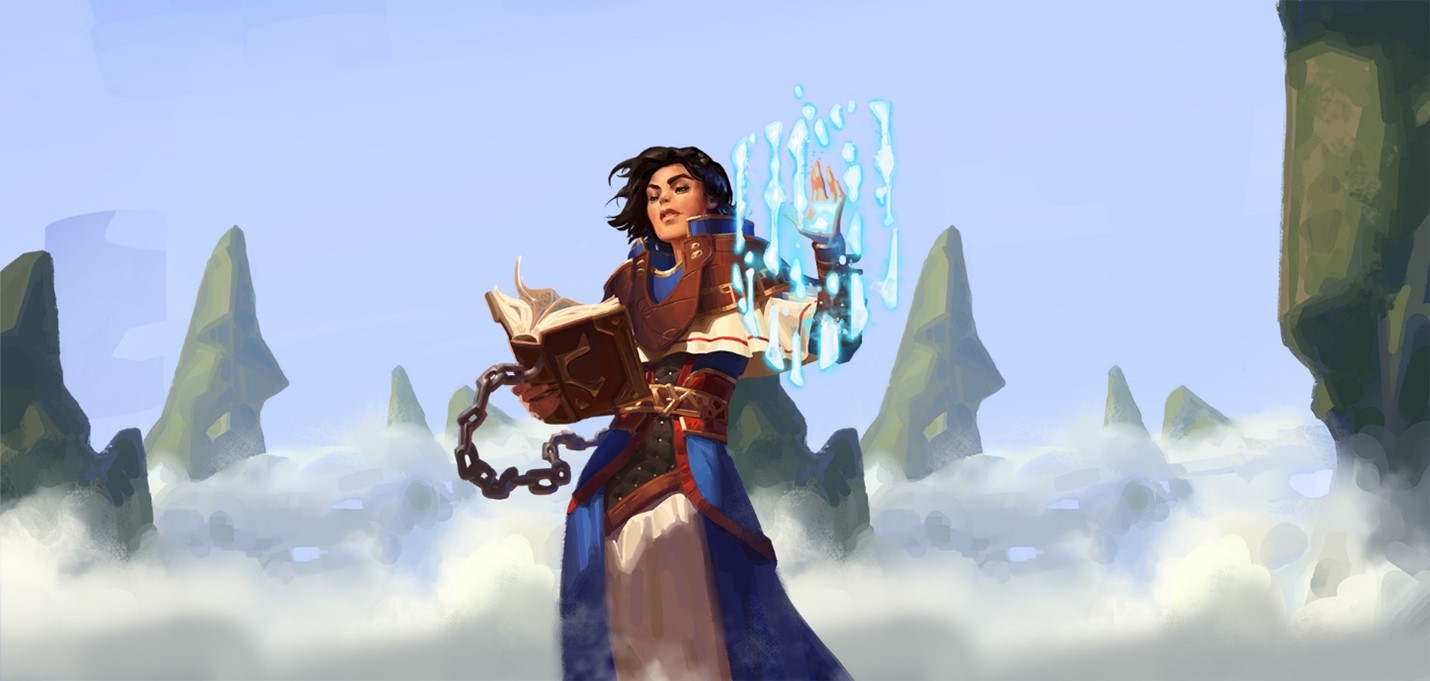 Teferi's Acolyte by Quentin de Warren
What's up, Spellslingers? I'm John Penick, and I'm one of the game designers responsible for bringing you multiversal magical mayhem. Today I'd like to wax philosophical on a card type in the game that can be tricky to play—both with and against—but also incredibly rewarding: traps.
To help introduce the topic, I pulled a line from one of my favorite books.
In battle, there are not more than two methods of attack—the direct and the indirect; yet these two in combination give rise to an endless series of maneuvers. —Sun Tzu, The Art of War
If you want to level up your Spellslingers game, mastering traps gives you a great avenue to do so by embracing indirect angles of attack.
Strategic Depth
There's a fine line to walk between designing a mobile-first game and designing a game with plenty of strategic depth. Being a branch of the Magic tree, it was important that we be able to maintain the threat that unspent mana could represent. Enter traps. You arm traps by dragging them up from your hand, which pre-spends their mana, and then they wait to resolve until their trigger is met. But your opponent doesn't see any of this, which means decisions are never as straightforward as what you can see in play. Seemingly simple situations suddenly become much more textured.
Why is Kiora attacking her Tideshaper into my Drana? Can I afford to lose combat to a Giant Growth? Probably not, so I guess I'm going to take the damage.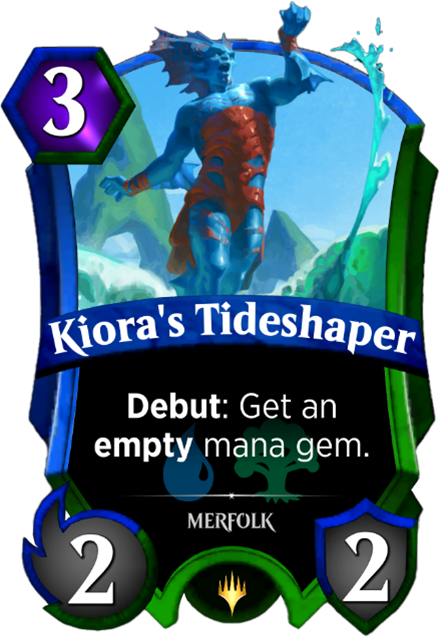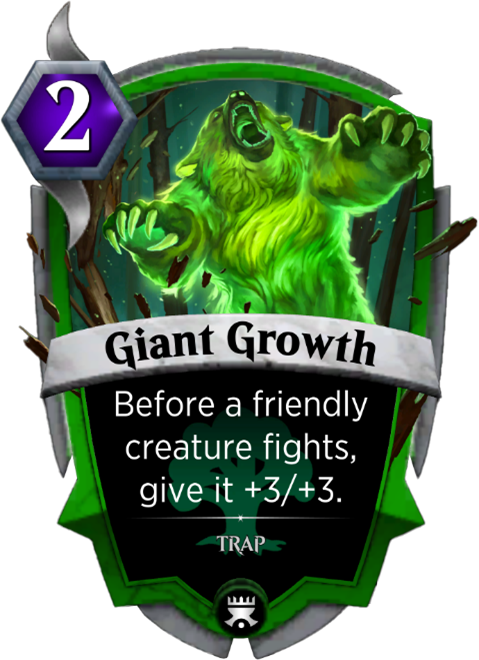 Off-turn traps are higher-risk plays. Your opponent might not trigger them, resulting in some lost mana from your turn. Or if your opponent does trigger your trap, they might be able to have it hit a different target than you want. Consider the dynamic if you find yourself in this situation.
Teferi doesn't have a good block for my Carnage Tyrant, but he still has 3 mana left from his turn. Does he have Immolating Glare? Should I just attack with my smaller creature to see first?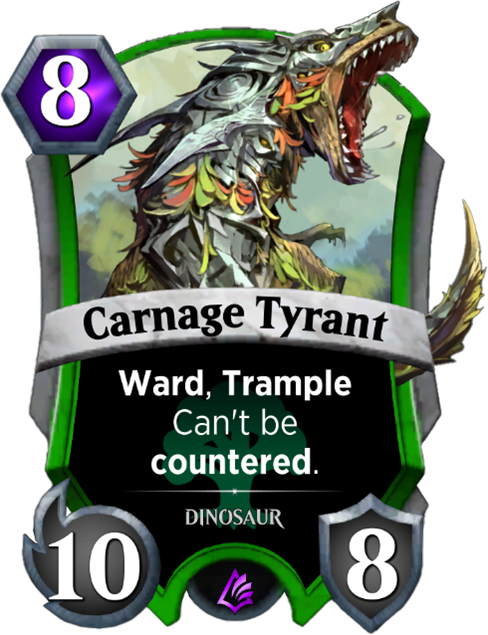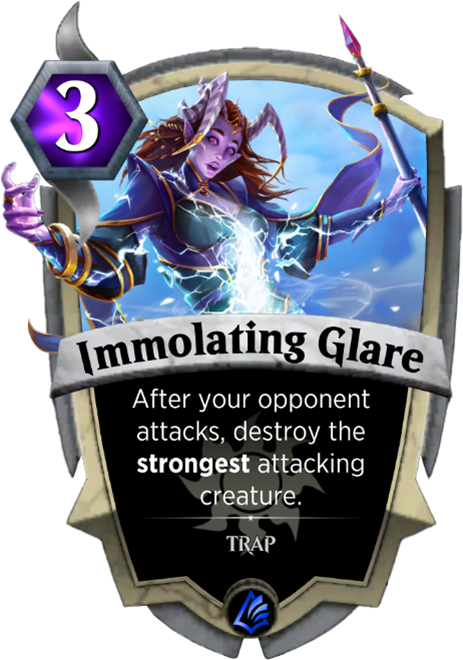 You have options for navigating an Immolating Glare, but maybe your opponent doesn't have it and successfully prevented the Carnage Tyrant attack that they were afraid of in the first place. In this way, the simple existence of Immolating Glare or similar traps can serve as a way for a player to catch up when behind by introducing doubt in the opponent's mind.
High Risk, High Reward
This conditional nature of traps allows us to put more power into them than you can typically get for the mana cost. Compare Opening Salvo to Shock, Immolating Glare to Path to Exile, Giant Growth to Oakenhide. Traps give you a better return on investment when they work. This is another way for us to give players the ability to catch up when behind or find creative ways to pull ahead. If you can cleverly walk opponents into your traps, you can get favorable exchanges as a reward.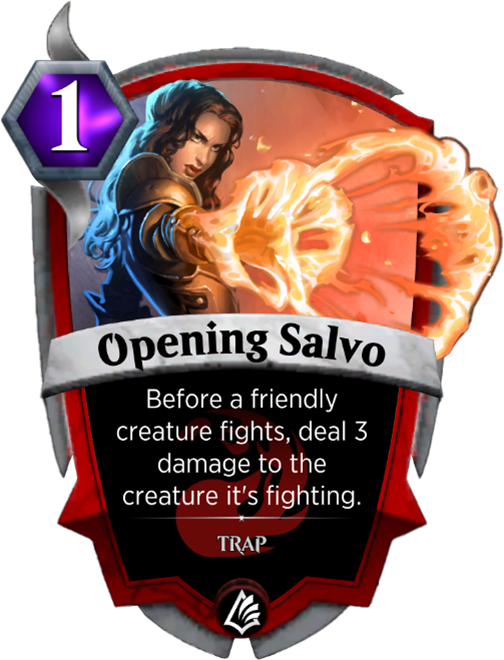 Traps will ask much from you, and learning how to effectively use them might not be as easy as point-and-play card types such as spells and creatures, but they offer unique benefits that you may find valuable.
Beyond all of these great functional uses, traps make for memorable moments and fun gameplay. They greatly open up the ability to bluff and play mind games with your opponent, and few things give the same satisfaction as walking your opponent into a trap you laid for them.
See you in the arena, Spellslingers!