Hello again Spellslingers! We want to be as active as possible in identifying problems in the meta and solving them, no matter how new or exciting the content is. As such, this balance patch squarely takes aim at one Spellslinger that has been performing a little too well following his recent arrival in Valor's Reach: Drizzt. While there are aspects of the typical Drizzt gameplay that are positive, his kit is overtuned such that we needed to make changes to bring him in line with the rest of the cast.
Card and Gameplay Changes
Planeswalkers
Drizzt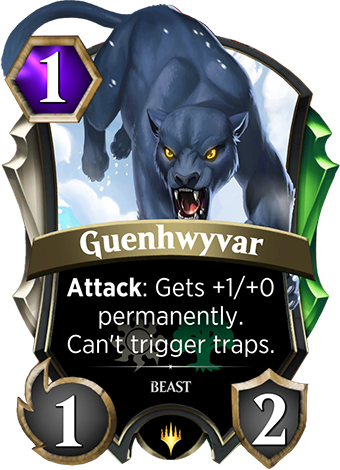 Guenhwyvar's trample provided Drizzt a level of inevitability that felt very difficult for many strategies to fight back against. Some of the decks that would have otherwise been able to go over the top of Drizzt instead found themselves having to put high health creatures in front of Guenhwyvar in the mid-to-late game which helped keep Drizzt's legends safer in combat. Without trample, players can afford to spend fewer resources defending against the vicious panther from the Astral Plane.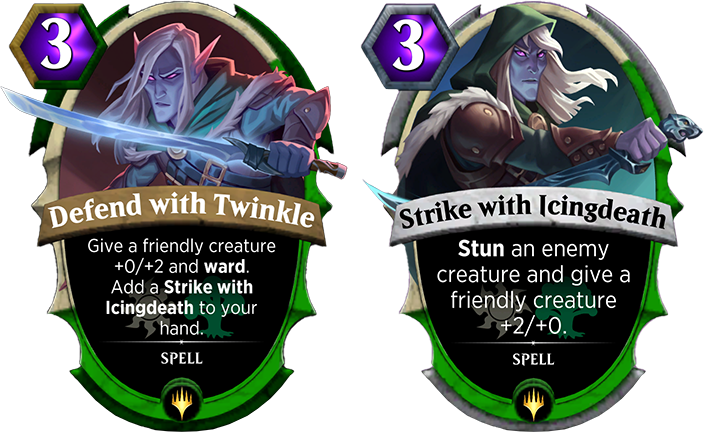 Defend with Twinkle & Strike with Icingdeath - 2 mana → 3 mana
Drizzt's weapons were often able to create large tempo swings with their mana efficiency, enabling Drizzt to protect key threats and remove problematic blockers (often while putting additional threats on the board). By increasing the cost of these two, it slows Drizzt down and makes it harder for him to play both on the same turn, giving his opponent more of a chance to set-up. The "Protect the Queen" gameplay of getting out legendaries is a fun dynamic in the kit, but the opportunity cost to do so needed to go up.
General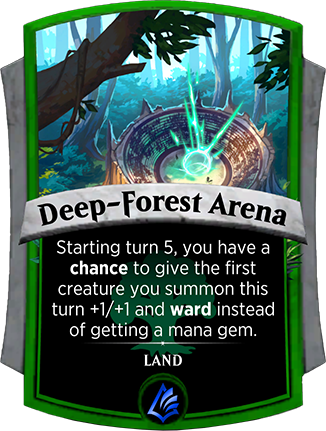 Deep-Forest Arena - +2/+2 → +1/+1
Deep-Forest Arena has been a powerhouse in many green decks, and was even more powerful when combined with the haste threats prevalent in Drizzt decks. We still like ward on the land as a way to encourage the playing creatures that don't immediately impact the board, but the stat buff has felt a bit too generous.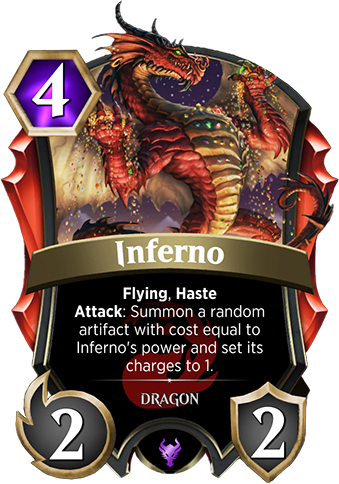 Inferno has been a very high impact card, especially when combined with power buffing effects (like Deep-Forest Arena, for example!). Given the haste, evasion, and impact of the attack trigger, there is often a narrow window to prevent an Inferno from running away with a game, so we want to open up more cards as potential answers to it. Shock (or Drain Blood) at your liesure!
Bug Fixes
Fixed a bug where sometimes on iOS devices the player's hand becomes invisible.
Fixed a bug where a placeholder string is visible for the "Play 2 Legendary cards" challenge.
Fixed several bugs where translations are missing or incorrect in multiple languages.
Fixed a bug where Whispers of the Grave drains for an additional 1 each time Nightmares trigger.
Fixed a bug where Healer's Kit can be used to add a charge to an artifact.
Fixed a bug where Dark Gladiator's text says "-2/-2" in some languages when its ability only applies a -1/-1 penalty.